Come wade in at charismatic conference
Published: July 3, 2017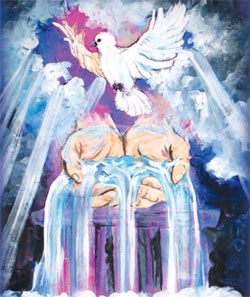 Bishop Anthony B. Taylor will celebrate the closing Mass for the 2017 Arkansas Catholic Charismatic Conference at 11 a.m. Sunday, July 30 at the Wyndham Riverfront Hotel in North Little Rock. All are invited to attend. This conference, which begins July 28, includes praise and worship music, prayer, workshops, a healing service, eucharistic adoration, the sacrament of reconciliation and more. Programs are available for children, teens and adults. See full conference schedule.
This year's theme is: "Come Wade in the Water," which is adapted from Revelation 22:17 and Ezekiel 47. Featured speakers will be Father Mark Goring, director of the Catholic Charismatic Center in Houston, and Carol Razza, Ph.D. a professor at St. Vincent de Paul Seminary in Boynton Beach, Florida. This annual event is sponsored by the Arkansas Catholic Charismatic Renewal Services of Little Rock. To register or get more information, visit www.arkcc.org or call Linda Williams at (501) 753-1553.
Pope Francis celebrated Pentecost Mass June 4 in St. Peter's Square at the Vatican and concluded a five-day celebration of the 50th anniversary of the Catholic charismatic renewal. It included more than 50,000 Catholic charismatics and Pentecostals from more than 125 countries gathered for praise and worship at the site of the ancient Roman Circus Maximus. Learn more.