Christmas crèche arouses awe and wonder
Published: December 19, 2022
Pray the blessing prayer above over your Christmas manger or nativity scene on Christmas Eve. When the manger is set up in the home, it is appropriate that it be blessed by a parent or another family member.
"The enchanting image of the Christmas crèche, so dear to the Christian people, never ceases to arouse amazement and wonder. The depiction of Jesus' birth is itself a simple and joyful proclamation of the mystery of the Incarnation of the Son of God. The nativity scene is like a living Gospel rising up from the pages of sacred Scripture." — Pope Francis
St. Francis of Assisi set up the first Nativity Scene on Christmas Eve in 1223. He invited villagers and friars from Greccio, Italy, to gather for Mass at his manger. He set it up in a cave with live animals and feeding trough converted into a crib. The tradition grew and people began constructing nativity scenes in their homes.
A nativity scene or crèche may be made from various materials. Many set up their entire scene at the beginning of Advent, leaving the crib empty for the Christ child to arrive on Christmas Eve. Others set it up slowly, day by day. Mary and Joseph can also "travel" to Bethlehem, as they move slowly across the room each day until they reach the manger.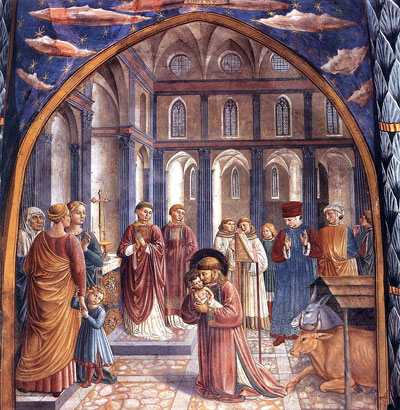 In his apostolic letter, "Admirabile Signum," Pope Francis writes about the meaning and importance of nativity scenes, encouraging us to look at them with fresh eyes. He recalled the first nativity scene created by St. Francis of Assisi.
"St. Francis had earlier visited the Holy Land, and the caves in Greccio (Italy) reminded him of the countryside of Bethlehem. It may also be that the 'Poor Man of Assisi' had been struck by the mosaics in the Roman Basilica of St. Mary Major depicting the birth of Jesus, close to the place where, according to an ancient tradition, the wooden panels of the manger are preserved."
The pope explained that according to "Franciscan Sources," St. Francis asked a local man, 15 days before Christmas, to help him "to bring to life the memory of that babe born in Bethlehem, to see as much as possible with my own bodily eyes the discomfort of his infant needs, how he lay in a manger, and how, with an ox and an ass standing by, he was laid upon a bed of hay."
On the evening of Christmas Day people brought flowers and torches "to light up that holy night". "When Francis arrived, he found a manger full of hay, an ox and a donkey. All those present experienced a new and indescribable joy in the presence of the Christmas scene. The priest then solemnly celebrated the Eucharist over the manger, showing the bond between the Incarnation of the Son of God and the Eucharist."
Pope Francis offers five recommendations on how the Christmas crèche can help us to better appreciate the gift of the Incarnation this Advent. Learn more from the following resources: Saint Francis and the Crib; Advent & Christmas Traditions: The Nativity Scene; and At Home Nativity Play from Luke 2:1-20 and Matthew 2:1-12
---
---