CCA staff serving 22 Afghan, Syrian families
Published: March 27, 2023
Call to Donate Car or Computer
Refugee resettlement caseworker Ken Bohac said refugee families most urgently need two items: a car for transportation and a home computer for school, work and family use. A few of these have been donated since the arrival of the Afghan families, and a few more are needed. Anyone interested in donating can call
Ken Bohac
at (501) 664- 0340, ext. 459 or email
kbohac@dolr.org
.
The following article was originally published in Catholic Charities Connections, a special section of Arkansas Catholic, on March 25, 2023.
More than a year into assisting 22 families from Afghanistan and Syria, the Refugee Resettlement Program in central Arkansas is continuing to help them resolve issues they are dealing with.
In the fall of 2021, Catholic Charities of Arkansas welcomed and helped resettle 88 people. Catholic parishes and other Little Rock area churches formed teams of volunteers to sponsor these families. Today, the sponsor teams are still doing the work of helping these Afghan families start a new life in Arkansas.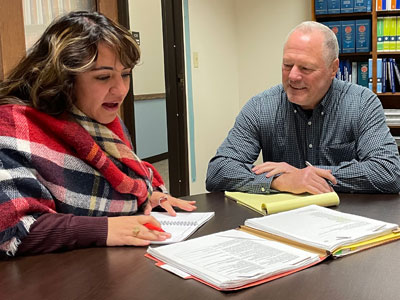 Photo Courtesy Catholic Charities of Arkansas
Ken Bohac (right), Afghan refugee resettlement caseworker, reviews immigration cases March 20, 2023, with Ingrid Castrillo, immigration specialist for Catholic Immigration Services in Little Rock.
Catholic Charities of Arkansas and the sponsor teams are in it for the long haul. The Refugee Resettlement Program is part of a national network of Catholic refugee resettlement programs. The United States Conference of Catholic Bishops' Migration and Refugee Resettlement Office is one of nine nongovernment organizations authorized to receive refugees admitted to the United States.
They assign Afghan refugees to local refugee resettlement programs in their network. Sponsor teams are dealing with issues for their families that will take time to resolve completely. For example, while many of the adults have found jobs, not all are earning a wage with health care benefits that will support their family. Others have started to learn English and are getting more education to improve their lives in Arkansas.
The Refugee Resettlement Office is a coordinating resource for the sponsor teams who are the day-to-day advocates for the refugees and their families. The office assists refugees with their immigration applications, access to English for Speakers of Other Languages (ESOL) training and employment. The office also helps the sponsor teams who work with government agencies, schools and employers on behalf of the refugees.
An issue for every Afghan refugee is securing legal permanent resident status and a path to citizenship in the United States. They were granted temporary legal status when they arrived as parolees, and there are deadlines for each of the many steps they must take to apply for a change of legal status that will allow them to stay here. Immigration law is complex, and requires people with knowledge and experience, who are also authorized under the law, to help the Afghan refugees with their situations.
Catholic Immigration Services in Little Rock is helping them with assistance from local immigration attorneys who share a concern for the well-being of the Afghan families who have been resettled through Catholic Charities of Arkansas. Ken Bohac was recently hired as the Afghan refugee resettlement caseworker for Catholic Charities of Arkansas. He is the contact point for the sponsor teams, helping them and the Afghan families get the services they need.
"In meeting with the 20 Afghani and two Syrian families, we see their great appreciation for the opportunity to be here and their willingness to work hard to make a new life here," Bohac said. "The biggest need and hurdle for them is to learn English, which we are working hard to address; the need for meaningful employment, which we are actively seeking help with; and the need for cars and computers for these families."