Buy socks and support our seminarians
Published: December 13, 2019
Looking for a fun way to support priestly vocations to the priesthood? The Vocations Office for the Diocese of Little Rock can help. Order socks, luggage tags or pop-sockets for your phone displaying the diocesan crest. All proceeds benefit the diocese's vocations ministry and the education of its seminarians.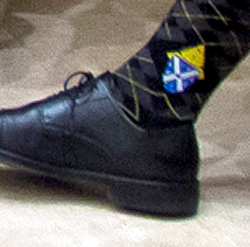 There are two unique fun designs of these very comfortable socks. Buy one pair for $15 or 3 for $40. Luggage tags and pop-sockets are $5 each. If you place your purchase between now and Jan. 1, 2020, get a pair free for every three purchased. Tags and pop-sockets mix and match five for $20
Order by mail or pick up your socks in person. To order, download the order form, complete it and make checks payable to: "Seminarian Fund". Mail form, payment and shipping and handling fee to: Vocations Office, P.O. Box 7565, Little Rock, AR 72217. Payment must accompany your order. We are unable to accept credit cards at this time. See form for details.
Please allow eight to 10 days plus processing time for your order to arrive. If you need faster delivery, please call Maria Izquierdo-Roque, in the Office of Vocations, at (501) 664-0340, ext. 378. You may pick up your socks when you bring your payment at St. John Catholic Center, 2500 N. Tyler St. in Little Rock, Monday through Friday from 8:30 a.m. to 5 p.m.