Bishop to decide May 6 about public Mass
Published: April 30, 2020
Bishop Anthony B. Taylor issued the following letter to the people of the Diocese of Little Rock, April 30, 2020, to address further changes to his March 12 and April 15 mandates suspending all public Masses and nonessential events during the COVID-19 pandemic.
"In my last message of April 15, based on the insistence of our public health officials that physical separation needs to continue to be maintained for the time being, I extended our present suspension of activities (and the corresponding dispensation of the Sunday obligation) to May 18.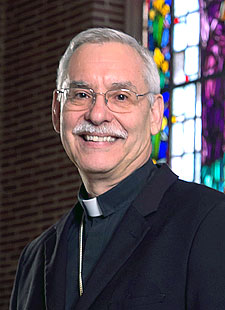 "At that time I also indicated that on April 30 I would make a further determination regarding the remainder of the month of May, including whether an earlier opening date might also be possible if things have changed for the better between now and then.
"Since then, much has happened. While COVID-19 continues to be a threat that will not end until a vaccine is found or herd immunity takes effect, and while far too many people continue to get sick and die, our voluntary restriction of activities has had the desired effect of 'flattening the curve' and thus avoiding a disastrous spike in infections that would otherwise have overwhelmed our health care system. Apart from a miracle, this was the best that could be hoped for.
"For that reason, Gov. Hutchinson is now taking steps to reopen the local economy and plans to make a recommendation on May 4 regarding the possible resumption of public worship in the churches of Arkansas, and under what conditions this could occur.
"Earlier today our Presbyteral Council had an extensive discussion regarding the conditions under which the public celebration of the Mass can be resumed in Arkansas and it is clear that the approach to be taken will need to be adapted to the specific circumstances and needs of the individual parishes — this will not be a one-size-fits-all process.
"My plan is to wait to hear what our Diocesan Pastoral Council has to say in their meeting tomorrow and what Gov. Hutchinson has to say on May 4. Then on May 6, taking all this into consideration, address the topic of the resumption of public Mass in Arkansas.
"In the meantime, let us continue to pray for those who are ill and those who have died, for those searching for a cure and for medical caregivers who risk their own health to care for others, for those who are faced with unexpected financial difficulties and for those who due to age or underlying medical problems know themselves to be especially vulnerable."
"Sincerely in Christ,
+Anthony B. Taylor
Bishop of Little Rock"