Bishop Taylor's mother dies April 26
Published: April 26, 2016
Bishop Anthony B. Taylor addressed the following letter to the priests, deacons, seminarians, staff and people of the Diocese of Little Rock regarding the death of his mother, Rachel Taylor, on Tuesday, April 26, 2016.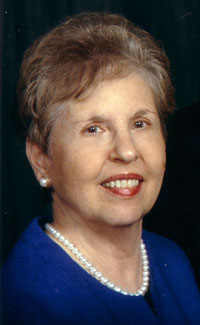 This is to advise you that my mother, Rachel (Roth) Taylor died today, April 26, at about 1:30 p.m. and is now at rest following a long and difficult illness. So while this is a time of loss for me and my family, we are also filled with relief that her time of suffering has come to an end.
Her funeral will take place at St. Mary Parish in Ponca City, Okla. The wake will be at 7 p.m. at Trout Funeral Home in Ponca City on Friday, April 29, and the Mass of Christian Burial will be at 10 a.m. on Saturday, April 30 with burial following in St. Mary Cemetery. (Read Arkansas Catholic to learn more.)
You are welcome to come, but Ponca City is an almost six hour drive from Little Rock and so will not be a practical option for most. Please know that your prayers in Arkansas and expressions of support here are more than sufficient — after all, from here to heaven is a local call!
Moreover, you are welcome to attend my regular weekly staff Mass at noon on Wednesday, May 4, which I will celebrate as a memorial Mass for my mother.
If you do plan to come to Oklahoma for the funeral, please let Maria (Velázquez, secretary to the bishop) know so that you can be included in the count for the funeral dinner following the interment.
Thank you for your prayers and support for me and my family at this time.
Sincerely in Christ,
+Anthony B. Taylor
Bishop of Little Rock
Eternal rest grant unto her, O Lord. And let the perpetual light shine upon her. And may she and the souls of all the faithful departed, through the mercy of God, rest in peace. Amen.