Bishop Taylor's brother dies March 15
Published: March 17, 2021
Bishop Anthony B. Taylor addressed the following letter, March 15, 2021, to clergy and diocesan staff regarding the death of his brother, Michael Taylor.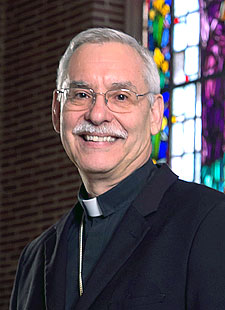 "My brother, Michael Taylor, age 65, died today at MD Anderson (Cancer Center) in Houston following two years of illness. He had leukemia and I was his donor for a successful stem-cell transplant.
"This was followed by a rigorous course of ongoing chemotherapy and other treatment to prevent rejection, one result of which is that, as expected, he lost all immunities and was thus vulnerable to infections against which he had very little resistance.
"For these last couple of weeks he has been fighting what was believed to be fungal pneumonia. He was on a ventilator for about a week, saw some initial progress, but then the disease took over and he died today around noon. Please keep him and his wife Lynn in your prayers.
"Sincerely in Christ,
+Anthony B. Taylor
Bishop of Little Rock"
Eternal rest grant unto him, O Lord. And let the perpetual light shine upon him. And may he and the souls of all the faithful departed, through the mercy of God, rest in peace. Amen.