Bishop Taylor to ordain monk to priesthood
Published: June 11, 2015
Bishop Anthony B. Taylor will ordain Brother Patrick Boland, OSB, to the priesthood on Saturday, June 20 at St. Benedict Church at Subiaco Abbey. Abbot Leonard Wangler, OSB, and other priests in attendance will concelebrate the 10 a.m. ordination Mass, which will be followed by a reception in the PAC Lounge. The newly ordained priest will celebrate his first Mass at St. Benedict Church on Sunday, June 21 at 10:45 a.m.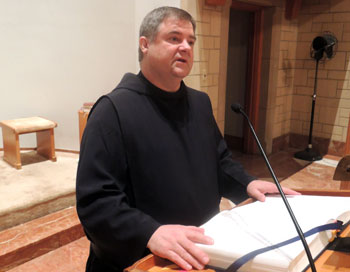 Brother Patrick earned a master's degree from Saint Vincent Seminary in Latrobe, Penn. on May 8. He earned a bachelor's degree in theology from St. Gregory's University in Shawnee, Okla. through the Little Rock Theology Institute in 2011.
He began discerning the priesthood after he professed his solemn vows as a Benedictine monk and permanent member of Subiaco Abbey in 2010.
Brother Patrick, 52, is originally from Northeast, Pa., a small town outside of Erie. After volunteering with youth groups and working in campus ministry at a Catholic high school in Macon, Ga., he began discerning a religious vocation. He came to Subiaco for a vocations retreat in July 2003 and returned in July 2004 for a second retreat. After that retreat he applied to join the abbey.
In September 2005, he became a candidate at Subiaco Abbey. Six months later, he became a novice and in 2007, he made his first profession as a Benedictine and took the name Patrick. Later he earned a bachelor's degree in professional studies with an emphasis in communications from Arkansas Tech University in Russellville in 2010 and began teaching religion and Scripture at Subiaco Academy.
"O God, I only want to do, what you ask, in the way you ask, for as long as you ask, because you ask," a quote from Pope Clement XI, is listed on the prayer card celebrating Brother Patrick's ordination. He said he chose this quote because it best describes his vocation in serving the Church, first as a monk and now as a monk and priest.
"These words have been my watch words in all that the abbey has asked of me. They sustain and inspire me to serve God and the Church. (They are) the reason for my entrance into monastic life at Subiaco. Now they take on additional meaning in 'being present' to all, as 'an icon of Christ, the priest,'" Brother Patrick said, referring to the Catechism of the Catholic Church, no. 1142, to help him describe the significance of the quote.
If you wish to contact him to congratulate him or assure him of your prayers, please e-mail Brother Patrick at brpatrick@subi.org. For more information, visit Subiaco Abbey at http://countrymonks.org.