Bishop joins 40 Days for Life in prayer
Published: February 9, 2018
Bishop Anthony B. Taylor will lead the Stations of the Cross during the Lenten campaign of 40 Days for Life Friday, March 9 in Little Rock. All are invited to join him across the street from Little Rock Family Planning Services, the abortion clinic at #4 Office Park Drive on Friday, at 10 a.m. For more information, contact Catherine Phillips, diocesan respect life director, at (501) 664-0340, ext. 326.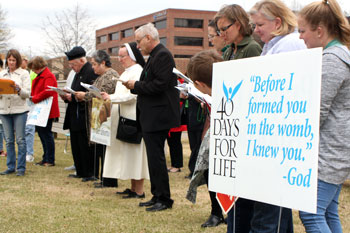 The international 40 Days for Life campaign highlights prayer, fasting and a peaceful, prayer vigil outside an abortion facility to pray for an end to abortion. In Little Rock, the campaign will kick off Sunday, Feb. 11 at 3 p.m. with Steve Karlen, North American campaign director for 40 Days for Life, as the guest speaker. This event will also feature Father Thomas Keller, chaplain of the pro-life movement in Arkansas, prayer and music by Catholic youth band Team Jesus.
Then, the prayer vigil will be held from 7 a.m. to 7 p.m. from Ash Wednesday, Feb. 14 to Palm Sunday, March 25. For more information about the campaign or to sign up, contact Tabitha Connolly at (501) 960-2194 or visit www.40daysforlife.com/littlerock.
"Only with prayer — prayer that storms the heavens for justice and mercy, prayer that cleanses our hearts and our souls — will the culture of death that surrounds us today be replaced with a culture of life." — Pastoral Plan for Pro-Life Activities: A Campaign in Support of Life, U.S. Conference of Catholic Bishops