Bishop greets initiates at Rite of Election
Published: March 6, 2017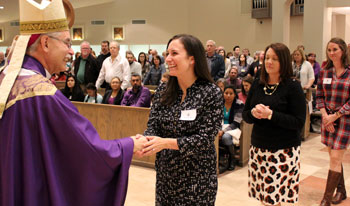 Each year, bishops in dioceses worldwide personally welcome those going through the Rite of Christian Initiation of Adults (RCIA) process during the Rite of Election, a special service held at the beginning of Lent.
This year, Bishop Anthony B. Taylor welcomed catechumens and candidates at rites held in four locations across Arkansas: Blessed Sacrament Church in Jonesboro on March 2; St. Vincent de Paul Church in Rogers on March 4; Christ the King Church in Little Rock on March 5; and St. Edward Church in Texarkana on March 6.
In all, more than 600 candidates and catechumens from 44 Arkansas parishes participated in the four services.
Bishop Taylor stressed the importance of a personal relationship with Jesus in his homily. "In RCIA you have studied the teaching of Jesus and considered how to apply this to your own lives, but more important is that you get to know Jesus himself as a person. You know, we are saved by who we know, not by what we know." Read his homily.
During the Rite of Election, the bishop declares catechumens ready to receive the sacraments of initiation, which are baptism, confirmation and the Eucharist. Through this process, they become known as the "elect." At the same time, he calls candidates to continuing conversion as they prepare to be confirmed and receive first Communion. Candidates are those who have already been baptized.
The elect and candidates are participating in RCIA, which is offered at the parish level, and generally begins in the fall and concludes with full initiation into the Catholic Church at the Easter Vigil Mass. To learn more, see our RCIA Q&A, download the steps in the process or visit the U.S. Conference of Catholic Bishops.