Bishop comments on the delta variant
Published: July 9, 2021
Bishop Anthony B. Taylor issued the following statement, July 9, 2021, to the people of the Diocese of Little Rock regarding the spike in COVID-19 infections and the presence of the delta variant in Arkansas.
"With the spike in COVID infections and the presence of the delta variant in Arkansas, a question has arisen whether we should re-impose restrictions to protect those who have not been vaccinated. The answer is generally NO, though the principle of subsidiarity would allow for this in isolated instances.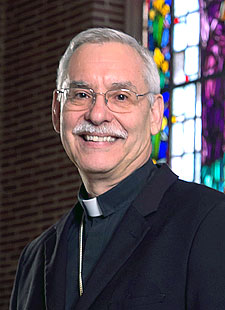 "The reason not to re-impose restrictions is that the vaccine is universally available and highly effective against the disease. We have been very insistent in emphasizing that all who can receive the vaccine should do so, not only to protect themselves but also to protect the small number of people who due to a compromised immune system or other factors are not able to receive the vaccine.
"The failure to be vaccinated when one can is therefore a threat to the common good, which all Catholics have a duty to uphold. Since the vaccine is readily available and effective, there is no reason for the Church to re-impose restrictions, and those who could get vaccinated when they have the opportunity to do so but don't and contract the disease as a consequence of their failure to get vaccinated have only themselves to blame.
"Moreover, those who are eligible but who fail to get vaccinated could also jeopardize the health and wellbeing of those who are currently ineligible or unable to be vaccinated — which is all the more reason to get vaccinated.
"Of course, if the situation changes or evolves with respect to variants, vaccine efficacy or directives from the governor of the state of Arkansas, the diocese is certainly open to reassessing the approach we need to take.
"Please remember that the dispensation from the Sunday Mass obligation ended last Oct. 1 for those who are in good health and not especially vulnerable or caring for someone who is especially vulnerable. As was announced at that time, if you are in a risk group identified by the CDC or — after serious prayer and deliberation — remain very fearful otherwise, you can consider yourself still dispensed.
"If you are in doubt, feel free to consult with your pastor regarding your specific situation.
"Sincerely in Christ,
+Anthony B. Taylor
Bishop of Little Rock"