Bishop addresses presidential election
Published: November 11, 2016
Bishop Anthony B. Taylor released the following statement to the people of the Diocese of Little Rock regarding the 2016 presidential election on Friday, Nov. 11, 2016.
Many of us have experienced the recent presidential election as a mixed blessing. We are relieved that President-elect Trump opposes abortion and plans to nominate anti-abortion justices to the Supreme Court. Indeed, many people voted for him for that very reason. But we are also dismayed by his divisive rhetoric.
The purpose of this letter is to remind all of us that this election has not changed the mission of the Church in Arkansas. We believe in the right to life and the dignity of the human person from conception to natural death and at every stage in between.
Particularly painful was the treatment of women and Hispanics during this campaign. Pro-life is more than just anti-abortion. Pro-life includes respect for women, a special concern for the poor and vulnerable, and in the present context respect for the rights of immigrants and the need for comprehensive immigration reform.
First, I would like to reassure our Hispanic parishioners that while much of the campaign rhetoric was disrespectful and indeed openly hostile, you should realize that most Americans harbor no ill will against you and might have voted differently except for the issue of abortion or perceptions about the economy.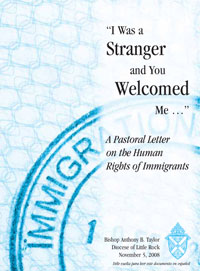 True, some people voted with hostile intent and the Church calls such people to set aside their fears and open their hearts to welcome you.
Others focused on your undocumented status and based their vote on what, from a Catholic perspective, is an excessively narrow concept of the rule of law, but with no real hatred against you. My message to you today is to trust in the Lord, who will continue to protect us and guide us going forward, if we will just listen to him.
Second, I would like to invite all of us to redouble our efforts to make our parishes a place of welcome, where all of God's children feel safe and valued. I feel proud when people tell me that their parish is a place where they truly feel at home. I would like to encourage you to continue to do all in your power to get to know your fellow parishioners and try to help them with their needs.
And since immigration has resurfaced as such a divisive matter in today's politics, I invite you to re-read my 2008 pastoral letter on the human rights of immigrants. Eight years have gone by, but nothing has really changed ... and I might add, Church teaching hasn't changed either. It is very important that you be truly informed as our nation deals with this issue going forward.
I am grateful that we will soon have a president who has promised to name Supreme Court justices who are opposed to abortion. Let us support President-elect Trump in this matter and other areas where his efforts promise to benefit the common good. And let us be the voice of the voiceless in areas where our advocacy can make a difference, especially in the lives of the poor and vulnerable among us.
Sincerely in Christ,
+Anthony B. Taylor
Bishop of Little Rock