Pope Emeritus Benedict XVI remembered
Published: January 12, 2023
Bishop Anthony B. Taylor concelebrated a special liturgy Jan. 4 to remember Pope Emeritus Benedict XVI at San Fernando Cathedral in San Antonio. Archbishop Gustavo García-Siller, MSpS, of the Archdiocese of San Antonio, was the presider at the memorial Mass, with concelebrants comprised of the bishops of Texas, Oklahoma and Arkansas, who were meeting in San Antonio for their annual retreat, according to Arkansas Catholic.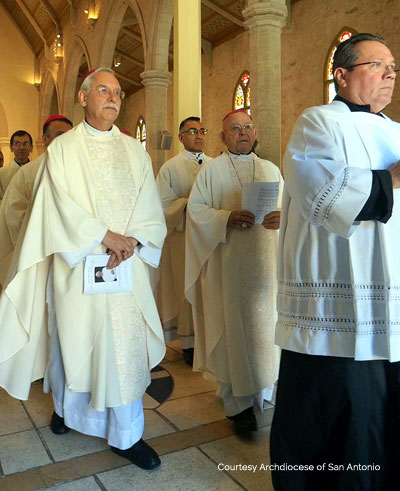 The prelates are members of Region X, one of 14 geographic regions in which the archdioceses and dioceses are divided for purposes of United States Conference of Catholic Bishops proceedings. The bishops of Region X meet in early January each year at Oblate School of Theology for a spiritual retreat and business sessions.
The retired Pope Benedict, 95, died in his Vatican residence Dec. 31. He became the first Roman pontiff in 600 years to resign the papacy in 2013. Pope Francis presided over his funeral Mass in St. Peter's Square Jan. 5 at 9:30 a.m. Rome time (2:30 a.m. central time).
"God's faithful people, gathered here, now accompany and entrust to him the life of the one who was their pastor," Pope Francis said during his homily at Pope Benedict's funeral. "Together, we want to say, 'Father, into your hands we commend his spirit.'" Learn more about the funeral. "Benedict, faithful friend of the Bridegroom, may your joy be complete as you hear his voice, now and forever!" he concluded, as the crowd prayed in silence.
Then-Cardinal Joseph Ratzinger became Pope Benedict XVI in 2005 following the death of Pope John Paul II. He resigned on Feb. 28, 2013. Arkansans reflected on Pope Benedict's influence on their spiritual lives in the Jan. 14 issue of Arkansas Catholic. Some met the late pope before and during his papacy, while others reflected on his role as theologian.
To learn more, read "Pope Benedict XVI made global impact throughout his life," "Pope Benedict XVI's body carried to St. Peter's Basilica," or "U.S. bishops mourn death of retired Pope Benedict XVI" in Arkansas Catholic. The U.S. bishops posted a "Novena in Memory of Pope Benedict XVI" along with other resources, including prayer cards.
---