2022 Weekend for Life (CANCELED)
Published: December 3, 2021
This Event Has Been Canceled
This event was canceled because of the COVID-19 pandemic. To learn more, e-mail the diocesan staff member listed above or leave a message at (501) 664-0340.
High school youth are invited to attend the 2022 Weekend for Life Jan. 15-16 at the DoubleTree Hotel in Little Rock. This event returns after being canceled in 2021 because of the COVID-19 pandemic.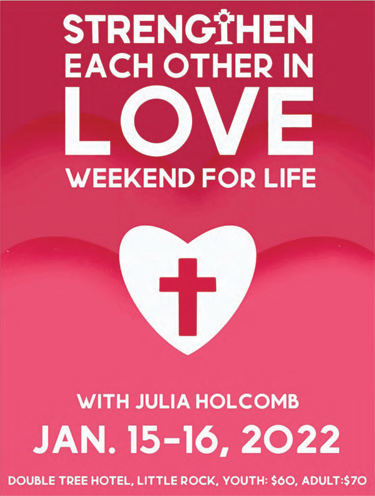 This overnight lock-in focuses on right-to-life issues from a youth perspective. It is held the night before the annual Eucharistic Procession and Mass for Life in Little Rock.
It begins on Saturday night and includes a speaker, praise and worship music, prayer, skits and dance. This year's keynote speaker is Julia Holcomb, who will share her story about being the 16-year-old girlfriend of Aerosmith's Steven Tyler.
On Sunday morning, participants will join Catholics of all ages from across Arkansas in a Eucharistic Procession for Life, from the Doubletree Hotel through Riverfront Park to the Statehouse Convention Center in downtown Little Rock where the Mass for Life will be celebrated at noon.
Weekend for Life participants will have a box lunch after Mass and then join others in the statewide March for Life with rally at the state Capitol, which includes prayers, speakers and music at 2 p.m.
The cost is $60 for youth and $70 for adult chaperones. Scholarships are available. Register though your parish by Dec. 23. To register your parish, download and return the registration packet with fee to the address provided. Weekend for Life is sponsored by the diocesan Catholic Youth Ministry Office. For more information, contact Tricia Gentry at (501) 664-0340, ext. 418.