Sunday, Jan. 16, 2022
Location: Statehouse Convention Center
City: Little Rock
Contact: Catherine Phillips
Phone: (501) 664-0340, ext. 326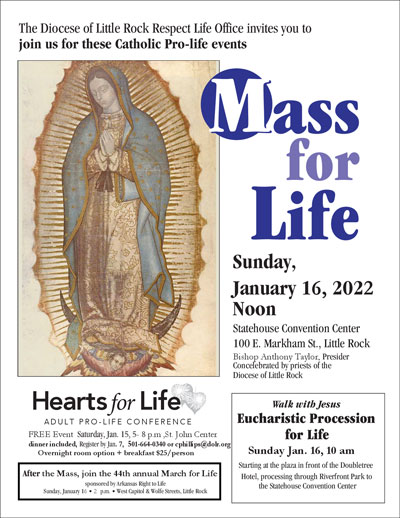 Bishop Anthony B. Taylor will celebrate the annual Mass for Life Sunday, Jan.16 at noon in the Wally Allen Ballroom at the Statehouse Convention Center in Little Rock. Before the Mass, everyone is invited to come together for a Eucharistic Procession for Life beginning at 10 a.m. Masks will be available and are encouraged. There will be plenty of room for participants to distance as needed for COVID-19 safety.
It will process from the DoubleTree Hotel through Riverfront Park to the Statehouse Convention Center. The Mass for Life, Eucharistic Procession and Hearts for Life Conference are being held to mark the anniversary of the U.S. Supreme Court's Roe v. Wade and Doe v. Bolton decisions that legalized abortion in the United States in 1973 and to proclaim the dignity of each human life at every stage and in every circumstance.
"I hope many will come together for this diocesan event to celebrate the gift of life and to pray for an end to abortion, euthanasia, assisted suicide, the death penalty and other evils that perpetuate a culture of death and disregard the God-given human dignity of every person in every stage and circumstance of life," said Catherine Phillips, director of the Respect Life Office.
Everyone is welcome. For more information, please contact Phillips, in the Respect Life Office, at (501) 664-0340, ext. 326.