2018 CCHD grants help Catholics serve
Published: November 26, 2018
The following article was originally published in Catholic Charities Connections, a special section of Arkansas Catholic, on Nov. 24, 2018.
Each year, the Diocese of Little Rock takes up a second collection for the Catholic Campaign for Human Development (CCHD) during the weekend before Thanksgiving.
Twenty-five percent of this collection remains in the diocese and is used by Catholic Charities of Arkansas to fund the CCHD Local Grant Program. Typically, the total amount available for local grants ranges from $15,000 to $20,000. Local groups may apply for grants starting on Jan. 1 of each year. The cut-off date for grant submissions is May 31.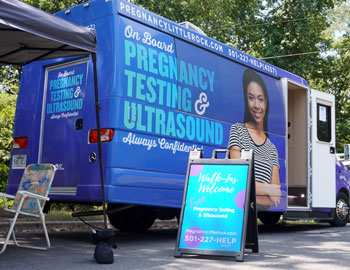 A local grant funded by the CCHD collection is helping Arkansas
Pregnancy Resource Center in Little Rock with costs of their mobile
sonogram program, especially needed after a fire destroyed their main
facility.
Grant applications are considered during June and grant checks are sent to successful applicants in early July. Individual grants range from $200 to $2,000. The projects for which applications may be submitted are broadly considered, but all constitute a local effort to help serve the poor or marginalized in some manner.
This past year more than $15,000 was distributed to 25 organizations throughout the state. Most of the grants were aimed at serving a wide population, while a few were focused on very discrete issues. The following organizations were awarded grants in 2018:
Alpha House in Mountain Home received a grant to help funding needs for its men's homeless shelter. In general, there are few homeless shelters in rural Arkansas. Alpha House has faced competition for funding, as donations tend to go toward programs benefiting only homeless women and children.
Local grants went to a number of pregnancy resource centers throughout the state. Hannah Pregnancy Resource Center, El Dorado; My Choice Pregnancy Clinic, Batesville; and Pregnancy Resource Center for Southwest Arkansas, Arkadelphia are three pregnancy resource centers in rural areas of the state that do pro-life work in cooperation with their local Catholic parishes.
Further, a grant went to the Arkansas Pregnancy Resource Center in Little Rock to help with costs of operating their mobile sonogram program, which was especially needed in light of the fire that destroyed their facility.
For the second year, grants went to a number of feeding programs and food pantries, some also offering financial assistance, in all areas of the diocese: the Charleston Ministerial Alliance food pantry; Community Outreach Services, Paris; Cooperative Emergency Outreach, Fayetteville; Cabot's Feed the Veterans; Fishnet Missions, Jacksonville; the Mountain Home Food Basket; St. Joseph Soup Kitchen, Blytheville; St. Thomas Aquinas Sunday Supper, Fayetteville; Soul Food Café Mission, Conway; and Feed the Hungry at Salvation Army, Little Rock. The hallmark of each of these operations was that if they were not run through a Catholic parish, a part of each operation was made up of volunteers and contributions from a local parish.
Parish conferences of the Society of St. Vincent de Paul operating out of St. Anne Church in North Little Rock and Blessed Sacrament Church in Jonesboro received grants to help with their outreach to poor families. A grant to St. Theresa School in Little Rock helped with a child's tuition. The Northwest Arkansas Catholic Respect Life organization received a grant for costs of supporting the 40 Days for Life campaign.
The Church of the Assumption in Atkins received a grant to buy computer equipment to help with their religious education program. And the Minister for Religious in Little Rock received a grant to help defray conference expenses. These and more programs all benefited from the generosity of Catholics in the pews whose donations to the Catholic Campaign for Human Development directly served worthy programs in Arkansas.