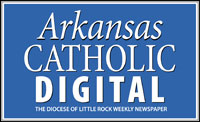 For 104 years, Arkansas Catholic and its predecessors have helped the bishops of Little Rock share the Word of God with the people of Arkansas. The award-winning weekly newspaper of the Diocese of Little Rock continues to offer you a wealth of information, education and inspiration through print and digital media.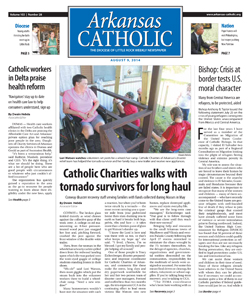 Arkansas Catholic, which is published 46 times a year, publishes what is happening throughout the diocese, including parishes and schools, and comments on world events through a Catholic perspective. Build up your faith with tools designed to connect you with your Church and bring you closer to the Master Carpenter. Subscribe today.
The print edition is delivered to your mailbox every week. Subscriptions are only $26 a year ($24 for seniors). Subscription envelopes are available at the church or by calling (501) 664-0125. Choose from a one- to three-year subscription.
Senior discounts and gift subscriptions are available. Or you can get Arkansas Catholic online the same day it's published, anywhere you have an Internet connection. Online subscribers also have access to back issues and all articles are searchable. Log on to Arkansas Catholic and sign up for only $12.95.
Guardian Angels

The archives bear witness to the Catholic faith in Arkansas in a way that no hindsight retelling could match. But these archives contain fragile, irreplaceable print newspapers that can't be saved without help. Since 2010, hundreds of "angels" have donated, resulting in 82 years of the newspapers being converted to digital. Learn how you can become a Guardian Angel.