Saturday, June 3, 2023
Location: St. Raphael Church - Springdale
Contact: Father Juan Guido
Phone: (501) 225-6774

Bishop Anthony B. Taylor will celebrate the closing Mass at this special event to celebrate the National Eucharistic Revival in the Diocese of Little Rock. This day serves to help participants deepen their personal relationship with God and grow their understanding of the Real Presence of Jesus in the Eucharist. All Catholics, including their families, are invited to attend. | Go to Schedule.
It will be held from 8:30 a.m. to 5 p.m. at St. Raphael Church in Springdale. The day will begin with morning prayer from the Liturgy of the Hours at 8:30 a.m., followed by the first presentation from keynote speaker, Tim Francis, of Hampstead, North Carolina. He has traveled across the United States speaking to Catholics so they gain a deeper understanding of Christ's Real Presence in the Eucharist since 2009. He will speak on having a personal relationship with Jesus in the Eucharist.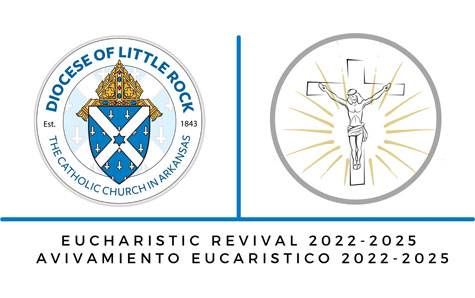 After the lunch break, Francis will deliver another presentation. His morning and afternoon talks will be translated into Spanish and delivered in another room. Breakout sessions in English and Spanish will be held in the morning with local priests and deacons and repeated in the afternoon. The day will close with adoration of the Blessed Sacrament and praying the Chaplet of Divine Mercy at 3 p.m. and Mass with Bishop Taylor at 4 p.m.
Beau Baldwin, music director and organist at the Cathedral of St. Andrew in Little Rock, will lead a diocesan choir with music in English, Spanish and Vietnamese. This event, which includes lunch, is free to attend. However, registration is required. Register now.
For more information, please contact Father Juan Guido, diocesan director of divine worship, at (501) 225-6774. A similar event is being held June 10 at Christ the King Church in Little Rock. Both are part of the National Eucharistic Revival, a movement to restore understanding and devotion to the Eucharist in the United States by helping us renew our worship of Jesus Christ in the Eucharist. See other events being planned to celebrate the revival.