Sunday, Jan. 22, 2023
Location: Statehouse Convention Center
City: Little Rock
Contact: Catherine Phillips
Phone: (501) 664-0340, ext. 326

Bishop Anthony B. Taylor will celebrate the annual Mass for Life Sunday, Jan. 22 at noon in the Wally Allen Ballroom at the Statehouse Convention Center in Little Rock. Celebrate the gift of life and the human dignity of every person and remember the millions of babies lost to abortion on this 50th anniversary of the U.S. Supreme Court's Roe v. Wade decision (now overturned) that legalized abortion in the United States in 1973.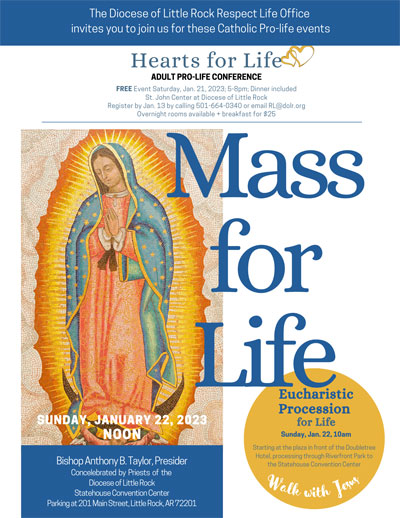 Before the Mass, everyone is invited to come together for the Eucharistic Procession for Life beginning at 10 a.m. It will process from the DoubleTree Hotel through Riverfront Park to the Statehouse Convention Center. Everyone is welcome. Come, remember and pray for the legal protection of all unborn children.
The night before, adults are welcome to attend the Hearts for Life Conference, a free event for adults to be held from 5 to 8 p.m. in Fitzgerald Hall on the campus of St. John Catholic Center. It will include a guest speaker and dinner. If overnight accommodations are needed, rooms are available for $25, which includes breakfast.
Youth are welcome to attend Weekend for Life, which begins Saturday, Jan. 21 as well. This overnight event for high school students focuses on right-to-life issues through a youth perspective and includes a speaker, praise and worship music, prayer, skits and a dance before attending the Mass for Life on Sunday.
For more information, contact Catherine Phillips, director of the Respect Life Office, at (501) 664-0340, ext. 326. Contact the Catholic Youth Ministry Office about Weekend for Life.