Sunday, Jan. 17, 2021
Location: Cathedral of St. Andrew - Little Rock
Contact: Catherine Phillips
Phone: (501) 664-0340, ext. 326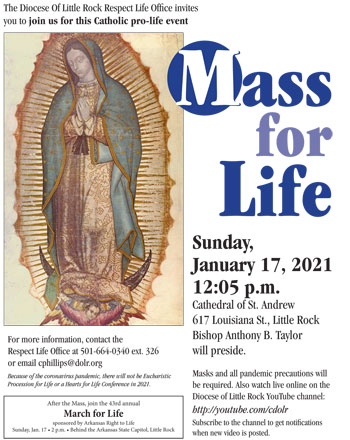 Bishop Anthony B. Taylor will celebrate the Mass for Life Sunday, Jan.17 at noon in the Cathedral of St. Andrew in Little Rock. It was moved to the Cathedral to safeguard against COVID-19.
This Mass will also be livestreamed on the Diocese of Little Rock YouTube channel to allow anyone to watch online. Subscribe to the channel to get notifications of when new videos are posted.
Each year, this Mass is held to mark the anniversary of the U.S. Supreme Court's Roe v. Wade and Doe v. Bolton decisions that legalized abortion in the United States in 1973.
For more information, please contact Catherine Phillips, in the Respect Life Office, at (501) 664-0340, ext. 326.

---