2022 — III Theology
Nathan Ashburn, Cathedral of St. Andrew, Little Rock
Attends Assumption Seminary in San Antonio, Texas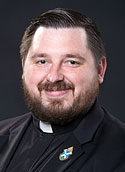 My journey began shortly after my six and a half years in the military. While I was in the military, I was a non-practicing Catholic. When I left the military, I started college and began working. It didn't take long for my parents to notice that I was suffering from some symptoms of PTSD (Post Traumatic Stress Disorder). My father asked me to seek professional help, but I ignored him. I decided to take care of things on my own.
The symptoms that were plaguing me did not get better; they only got worse. Finally, I decided to listen to my father, and I set up a meeting with Msgr. Scott Friend only for counseling purposes. Msgr. Friend helped me clear up some issues that I had with the Lord at that time. After my first meeting with Msgr. Friend, I began to practice my faith once again. At this moment in my life, I was trying to figure out what I wanted to do with my life. What kind of career do I want?
I thought about this for several months but got nowhere except for wanting to be a chef like my grandfather. I decided to ask the Lord for a change. I asked him, "Lord, what do you want me to do with my life?" I asked this question every day for two weeks while getting ready for work. A week went by, and I felt like the Lord was dropping hints, but I was not receiving them. I then asked the Lord, "Can you just tell me, Lord, what you want me to do because I'm not good at picking up hints."
Then another week went by, and I'm hanging out with my friend, JB. While we were discussing life, in general, I heard a call from my soul, where God dwells in all of us, say, "Nathan, I want you to be my priest." After I listened to this call from God, I felt like it was something I needed to give a try. The next day I called up Msgr. Friend, to see if it was possible to apply for the seminary.
It is now six years later, and I'm in my third year of theology at Assumption Seminary in San Antonio, Texas. I have enjoyed my journey so far to the priesthood. It has been an eye-opening journey. I will be ordained a transitional deacon in May of 2021, God willing. This is a big step in my journey to the priesthood.
I look forward to this next step in my life and will tackle the new challenges that come with this new environment due to the pandemic. I have a great love for the Lord, the Church, and the people of God. I might not be a soldier for my country anymore, but I am a soldier for God and servant to the people of God.
If you wish to contact Nathan Ashburn, please e-mail Maria Izquierdo-Roque in the Vocations Office or call her at (501) 664-0340. This article was published July 1, 2020. Copyright Diocese of Little Rock. All rights reserved. This article may be copied or redistributed with acknowledgement and permission of the publisher.