2022 — I Theology
Nathan Ashburn, Cathedral of St. Andrew, Little Rock
Attends Assumption Seminary in San Antonio, Texas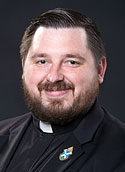 When I returned home after having been in the Army for six and a half years, my father, Deacon Chuck Ashburn, felt it would be wise for me to seek spiritual counseling from Msgr. Scott Friend, vocations director for the Diocese of Little Rock. I eventually brought forth the courage to call Msgr. Friend to set up an appointment.
I started to see Msgr. Friend once a month. On the sixth month of visiting him, Msgr. Friend asked me if I ever had thought about the vocation of priesthood. I answered that I had not really considered this option. He suggested that I should think and pray about it to see what God wanted me to do with my life. Initially, I did not really think too much about that suggestion.
A couple weeks after that meeting with Msgr. Friend I was on my boat out on the lake. All of a sudden, I was thinking about becoming a priest. I was thinking of all the great things I could do to help other people. Since then, I started to ask God every day, "What do you want me to do with my life? Do you want me to live the life of a priest or do you want me to live the life of a married man?"
As a seminarian, I have grown closer to the Lord. I learned more about the true person the Lord intends for me to be. I'm really excited to head to Mexico to learn Spanish for use in my future ministry. Now that I'm in theology, I'm happy to continue my journey by learning the theology of our faith.
---