Deacon Candidate — Class of 2022
Ken Hunter, St. Vincent de Paul, Rogers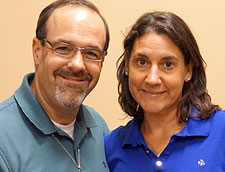 Why do you want to be a deacon?
It's not so much what I want to do, but rather what I believe the Lord is calling me to do. And in following that calling thus far, I have found joy. When I was first discerning this calling, I tried to dissuade myself, that I was not worthy or that it wasn't right for me. Yet, I kept feeling that calling. When I finally gave in and trusted the Lord, there was peace and I knew serving in this capacity was the direction I needed to point myself — no matter how challenging that may be to me.
Married To: Antonietta Hunter
Profession: Computer scientist, management/Sam's Club technology
Interests and Hobbies: It's funny, but learning more about my faith is one of my favorite pastimes. Other than that, computers, biking, reading, family activities (such as tennis) snorkeling, sports and generally being with my family.