Deacon Candidate — Class of 2022
John T. Suskie, Jr., Christ the King, Little Rock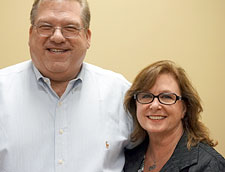 Why do you want to be a deacon?
The call to the diaconate was something that came to me when Neddie and I were going through a period of deep spiritual growth. We were experiencing some trying times with illnesses and deaths in our immediate family as well. We both questioned how anyone could endure these kinds of trials without having God in their lives. I believe those times are when God planted the seed giving me the desire to serve others in not only times of their spiritual growth, but also in the trying times as well. I believe God has called me to serve his Church as a deacon, to give back by helping others and to spread the Good News of our Lord and Savior Jesus Christ to all the world.
Married To: Schanesta (Neddie) G. Suskie
Profession: Executive vice president at Bear State Bank (Arvest Bank)
Interests and Hobbies: I enjoy spending time with my family and I'm a big sports fan, particularly of college football. I also enjoy traveling with my wife, Neddie, and our kids and grandkids when they can join us in our travels. One of the things that gives me joy is participating in the weekly Men of Faith meetings at Christ the King. I also like to meet new people and I am an avid reader.