2022 — III Theology
Dc. Jaime Nieto, St. Raphael Church, Springdale
Attends Assumption Seminary in San Antonio, Texas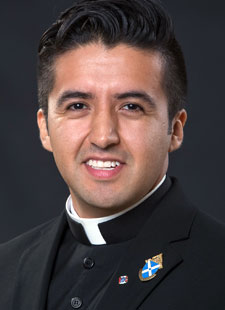 "... Jesus said in reply, 'Ten were cleansed, were they not? Where are the other nine? Has none but this foreigner returned to give thanks to God?' Then he said to him, 'Stand up and go; your faith has saved you.'" (Luke 17:17-19)
Six years have passed since I answered the Lord's call to follow him. Through these six years, I have learned, grown and matured in so many areas. I completed the second year of my theological studies. The Lord has worked in me and has blessed me. There were times where the struggles and challenges were defying, but the Lord was there and strengthened me to keep moving forward. I have been challenged to come out of my comfort zone by the Lord. I experienced how he has stretched my heart to love unmeasurably just the way he does.
This summer, I am doing CPE (Clinical Pastoral Education) at Baptist Health. I have mixed emotions about this assignment. I feel nervous because of the new challenges we are facing because of the Covid-19 virus. I am worried about my health and the health of those I am visiting, but I trust in the Lord that he will guide me and protect us from any harm. I am also excited because this will help me grow in many ways. I pray to the Lord to guide my heart and give me the wisdom to console those I visit. I ask the Lord to make me an instrument of his love, so I can bring his love to the people he places in my path.
In the fall, I will continue my theological formation at Assumption Seminary and the Oblate School of Theology in San Antonio, Texas. I will begin my third year of theological studies and my preparations for my diaconate ordination May 21, 2021. This fills me with excitement as I come to a close in my formation on becoming the best pastor that I can be for the people of God. I still can't believe that six years have passed and that I am only two years away from my priesthood ordination. I am excited and ask the Lord for strength, wisdom and patience to listen to his voice and do his will.
Lastly, I want to thank you all for your support and prayers. I look forward to sharing my experience studying theology and the ones I lived during this summer. May God bless each one of you for all your support for my brother seminarians and me. Thank you once again and see you soon!
If you wish to contact Jaime Nieto, please e-mail Maria Izquierdo-Roque in the Vocations Office or call her at (501) 664-0340. This article was published July 1, 2020. Copyright Diocese of Little Rock. All rights reserved. This article may be copied or redistributed with acknowledgement and permission of the publisher.