2020 — IV Theology
Dc. Joseph Friend, Christ the King Church, Little Rock
Attends St. Meinrad Seminary, Indiana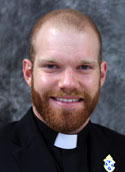 By blessing me with an incredible family, the Lord gave me a first-rate supporting cast in my journey toward the seminary. My father taught me to be a man of God and my mother taught me how to love him. Because of my parents' nurturing love and emphasis on developing a relationship with the Lord, I am forever indebted to them.
Throughout my childhood, I would lay in my bed and pray, "Lord, I want to be your servant." This simple prayer gained a whole new meaning when I was 12 years old, while I was attending Mass in the Catholic High School chapel in Little Rock. As Father Lawrence Fredrick elevated the host, I heard the Lord say, "Come, follow me," as I peered into Jesus' eyes in the mosaic, located behind the altar.
I felt confident that the Lord wanted me to be one of his priests, but high school found a way to blur this once vivid vocation. I found myself living by the way of the world, rather than by Jesus' way of humility. It took the diagnosis of my mother's cancer for me to realize how distanced I had placed myself from God. My mother was my hero throughout her sickness, because she lived by true conviction. Fear never dared to show itself in her face, because she knew that the Lord held her with his loving and merciful hands.
To the day she died, my mother lived as a strong, Catholic woman. Her example of relying completely on the Lord in her frailness taught me that a true Christian is one that lives vulnerably and embraces his cross lovingly. It was this vulnerability that allowed my relationship with the Lord to flourish in my formation toward the priesthood, because he met me in my weakness. As I have had to go through struggles in seminary, the Lord has never failed to comfort me and show me his great love.
One thing that has always been a part of my prayer life is gazing upon a crucifix, something that a good friend, St. Francis, taught me. It is beautiful to think of a God, who is willing to suffer and die for his people. The least I can do is to return a piece of that love. It has been wonderful serving as a deacon, going into my final year of formation. For my deacon summer, I was assigned to Sacred Heart Parish in Morrilton and had the opportunity to learn from Msgr. Jack Harris, who is an unbelievable mentor.
One of the things he taught me is how to be a loving father in the highs and lows of life. We'll find ourselves in the nursing home, basketball gym, hospital and laughing with parishioners all in the same day. The experience I had at Sacred Heart simply strengthened my desire to be a priest.
We have such an unbelievable opportunity to enter the lives of the faithful and be bridges, guiding the people to our Lord, Jesus Christ. My prayer and the prayer I ask from everyone in the Diocese of Little Rock is that I can be a sturdy bridge, always pointing to Jesus. Let's run to him together. Much love.
If you wish to contact Dc. Joseph Friend, please e-mail Miriam Gallaher in the Vocations Office or call her at (501) 664-0340. This article was published Sept. 17, 2019. Copyright Diocese of Little Rock. All rights reserved. This article may be copied or redistributed with acknowledgement and permission of the publisher.