2021 — IV Theology
Dc. Brian Cundall, Christ the King Church, Little Rock
Attends St. Meinrad Seminary, Indiana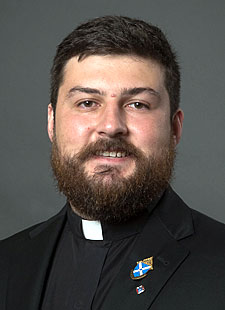 God is always forming us for our particular vocations all of our lives, but it was in high school that I first started really discerning my vocation. I was a junior at Catholic High School in Little Rock when a teacher after class told me: "Brian, I think you would make a good priest." That moment began my discernment process.
I began to struggle with the notion of discerning for the rest of high school. Everyone has two vocations. The first vocation is a call to holiness; the second is a call to a particular vocation, which for me was between marriage or priesthood. I had many good people in my life that helped me discern and the best way to discern is to first strive for the universal call to holiness. Once we grow closer to God we are able to hear God's guiding voice in prayer leading us to our particular vocation.
Another thing I found helpful in discerning and knowing what God is calling me to is knowing how my heart is made. Did God make my heart in such a way as to love only one person for my life, or has God made my heart in a way as to love all of God's people? Now in my final year of seminary I know God has called me and given me a heart to serve the people of God.
It has been an absolute blessing being in the seminary. I have grown so much closer to Christ and I have grown as a person as well. Currently, for the summer, I am working at Christ the King Church in Fort Smith, and due to the pandemic my ordination to the diaconate was moved to Aug. 14, 2020. Right now we are living in an extraordinary time, and know of my prayers for all of you in the Diocese of Little Rock.
If you wish to contact Brian Cundall, please e-mail Maria Izquierdo-Roque in the Vocations Office or call her at (501) 664-0340. This article was published July 1, 2020. Copyright Diocese of Little Rock. All rights reserved. This article may be copied or redistributed with acknowledgement and permission of the publisher.
---