IV Theology
Dc. Daniel Wendel, Christ the King Church, Little Rock
Attends Assumption Seminary in San Antonio, Texas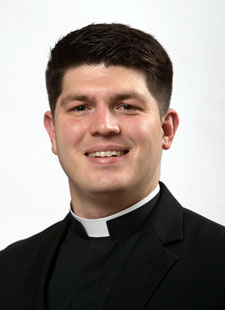 Now in my eighth and final year of seminary as a transitional deacon in San Antonio at Assumption Seminary, I realize that most of my vocations journey is about the people who showed extraordinary faith in me. They were Jesus' own hands, feet and voice revealing to me the beautiful call that our heavenly Father had prepared for me.
Father Erik Polhmeier and Bishop Francis Malone both showed me how pure joy can be so infectious, and that made me want to be a priest from an early age. As I grew older and the fears about priesthood began to grow in me, Deacon Danny Hartnedy responded to the grace that Jesus gave him, and he would ask me if I knew that Jesus was calling me to be a priest. I was not ready to listen to Jesus at that time in my life, but my mother always knows the right moment.
I was not at peace with my college decision to go to the University of Arkansas, and my mom knew and she said, "Daniel, you have been running from this for so long, and you know where peace comes from as I have always told you. There is peace in doing the right thing."
I had so much running through my head about my vocation and I simply needed someone to ground me in Jesus, and then seminarian Patrick Friend said something I will never forget just before Holy Thursday Mass. He told me, "Don't let fear make your decision."
I wrestled with my mom's words and Patrick's words throughout the triduum. As I sat up in the sanctuary as an altar server for the Easter Vigil and then Msgr. Malone was doing the confirmations, I had a heart-to-heart with Jesus about my vocation.
I talked with Jesus and told him, "Jesus, I know that I have been pushing you away and the desire you placed in my heart. I am worried about all the things I will lose if I say yes, but I am open to your plans because I am not finding peace with the path I have chosen. I would much rather be at peace than do what I want. I know the plans you have had for me for a while and I am not going to let my fear keep me away any longer. I am ready."
God's work in me throughout my seminary formation has been to form me into a spiritual father. God is our Father. We call him "Abba, Father" as Jesus taught us, and we have become his children in baptism because God's desire is that we all know him as our Father.
Our heavenly Father has sent numerous examples of fathers to us on this earth, and the one thing they all have in common is that they are flawed. A question I have always had is "why can we not get this right and does this mean I will be a failure too?" I have held this question for a while, but God has begun to reveal to me the extraordinary thing about fatherhood.
Fatherhood is more spiritual than physical, and more theological than biological. Fatherhood belongs to God more than it belongs to man. Since fatherhood belongs to God, the only way I will be a father is if he helps me become a father in his image.
The times I rely on him and trust in his will is when I become more like the father he is calling me to be. In my pride and willfulness, I think I can become a father on my own and I end up falling short, but even in the times that I fail, he is present to lift me back up. God does not expect me to be perfect. He wants me to be a father. He has put into my heart a desire to love, teach, guide,and care for his people just as he does, and it will be my work to always remember that I can only do all things through him who strengthens me.
I remember the moment during the ordinations when my brothers are making their oaths, and they respond, "I do," but on the last response they say, "I do with the help of God." So in the end, I know I will mess up, but I also know that I can trust in God to help me be the spiritual father he has called me to be.
My ordination to the transitional diaconate was an incredible experience. It is comforting to know that the Holy Spirit has been called down upon me and that he is always there to guide me and help me live the vocation I was born to live for the Kingdom of God.
The invocation of the Holy Spirit is not something I fully experienced on the day of my ordination, but I am recognizing the fullness every day of my vocation as he helps me to stay true to the promises I made to love and serve God and his people.
If you wish to contact Dc. Daniel Wendel, please e-mail Georgina Pena in the Vocations Office or call her at (501) 664-0340. This article was published Oct. 8, 2021. Copyright Diocese of Little Rock. All rights reserved. This article may be copied or redistributed with acknowledgement and permission of the publisher.