Bringing two families together with the love we all share for a child
Our Services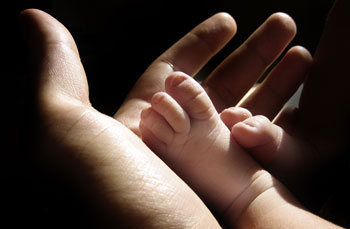 We are a non-profit, Arkansas-licensed child placement agency and a department of Catholic Charities of Arkansas, an office of the Diocese of Little Rock. With more than 35 years of experience, our caring, professional and experienced staff is available to serve birthparents and adoptive parents who are interested in adoption.
Our Clients
We work with parents and adoptive families across the state of Arkansas who are considering a loving plan of adoption. Generally, children are placed for adoption in the state of Arkansas. Although we work with families of other faiths, we are aware that many of our birthparents are Catholic and are looking for a Catholic adoptive family.
Choosing a Family
Birthparents may select a pre-adoptive family through the profiles created by the waiting families. They can then meet each other on a confidential basis. We have a range of openness in our adoptive placements. We work on a case-by-case basis for what is the most appropriate contact for all those who are involved. Both adoptive parents and birth parents are encouraged to share pictures, letters and small gifts through our agency. Visits are sometimes possible. All contact is confidential and arranged through the agency. More open adoptions may be available in the future. We will discuss the options with you.
How to Get Involved
Adoption Services, Inc. is a 501(c)(3) non-profit agency and all of our work with the birth parents is offered to them at no cost. We are supported by our bishop, the parishes of the Diocese of Little Rock, Catholic Arkansas Sharing Appeal (CASA) and through our sliding scale fees. We also deeply appreciate the donations of concerned groups and individuals who are dedicated to supporting a birth family experiencing a crisis pregnancy.
Donations are tax deductible to the extent allowed by law and will help with the pro-life work of our Catholic Adoption Services. Please call if you would like to have someone speak to your organization about our wonderful agency.
We Can Help
We know this can be a difficult time and that there can be some challenges and misunderstandings about adoption. Please feel free to call us with your questions. We are here to help you. Collect calls are accepted from birthparents. Se habla Español. For more information, please call (501) 664-0340.
---