World Day for Consecrated Life is Feb. 6-7
Published: January 29, 2021
The 25th annual World Day of Prayer for Consecrated Life will be Feb. 2, which is also the feast of the Presentation of the Lord. Celebration of this event is transferred to the following weekend, Feb. 6-7, to allow parishes to highlight the gift of religious life and pray for those discerning a religious vocation.
The Congregation for Institutes of Consecrated Life and Societies of Apostolic Life (CICSAL) at the Vatican addressed a letter to all consecrated persons Jan. 18 highlighting the difficulty of the past year and noting the impact of the COVID-19 pandemic on religious communities worldwide.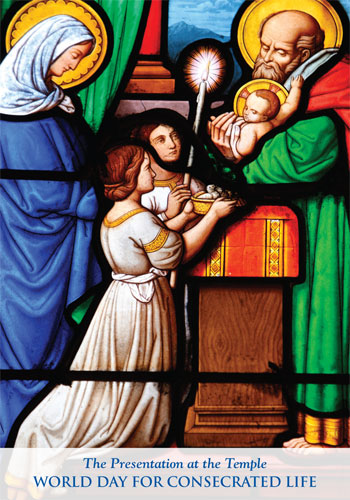 "For months we have been following the news coming from communities in various nations: they speak of bewilderment, the spread of infection, deaths, of human and economic difficulties, institutes that are decreasing in numbers, fears ... but they also speak of a fidelity tested through suffering, courage, a serene witness even in the midst of pain or uncertainty, sharing every affliction and every wound, caring for and being close to the most needy, charity and service at the cost of one's life (cf. Fratelli Tutti, ch. 11)." Read the letter.
Much of the letter focused on Pope Francis' recent encyclical "Fratelli Tutti, on Fraternity and Social Friendship," and included the request that all religious place its teaching "at the center of your life, formation and mission." In response, the Conference of Major Superiors of Men, Leadership Conference of Women Religious, National Religious Vocations Conference, Religious Brothers Conference and Religious Formation Conference are co-sponsoring the "25th World Day for Consecrated Life through the Lens of Fratelli Tutti" an online gathering to include prayer, listening and small group conversation Feb. 2 at 6 p.m. central time.
St. John Paul II established the World Day of Prayer for Consecrated Life in 1997 to be celebrated in conjunction with the feast of the Presentation of the Lord, also known as Candlemas Day, which highlights the fact that Christ is the light of the world through the symbolic lighting of candles. Similarly, consecrated men and women "are called to reflect the light of Jesus Christ to all peoples." For more information, visit the U.S. Conference of Catholic Bishops (USCCB).
"The faithful witness of religious and other consecrated men and women living out their vocation is powerful. By their prayers and apostolates, those in consecrated life provide for us an example of Christ's merciful love, and especially during these uncertain and difficult times, they point us to the reality that Christ is our ultimate goal," said Bishop James Checchio, chairman of the U.S. bishops' Committee on Clergy, Consecrated Life and Vocations, echoing this connection in a Jan. 26 statement about the World Day of Prayer for Consecrated Life.
His committee commissioned a Center for Applied Research in the Apostolate (CARA) survey of the religious profession class of 2020 that might help religious communities and parishes identify young people discerning a possible vocation to religious life. To learn more, visit the USCCB. Visit our Religious Directory to learn about religious orders in Arkansas.
Prayer for Consecrated Persons
Please join us in praying for all religious on this day and thank them for their dedication and commitment. Parishes may include these prayers of the faithful at Mass and families are invited to say the following prayer, courtesy of the USCCB Secretariat of Clergy, Consecrated Life And Vocations, which is found on the back of the prayer card for the World Day for Consecrated Life.
"God our Father, we thank you for calling men and women to serve in your Son's kingdom as sisters, brothers, religious priests, consecrated virgins, and hermits, as well as members of secular institutes. Renew their knowledge and love of you, and send your Holy Spirit to help them respond generously and courageously to your will. We ask this through our Lord Jesus Christ, who lives and reigns with you and the Holy Spirit, one God, for ever and ever. Amen."