Professional Day: Teachers to be salt, light
Published: October 20, 2023
The 86th annual Arkansas Catholic Schools Professional Day was held Friday, Sept. 29 at Christ the King School in Little Rock. This year's theme was: "Called to be Salt and Light." Father Juan Guido, pastor of Christ the King, celebrated Mass at 9 a.m. Twelve priests from across the Diocese of Little Rock concelebrated the Mass assisted by Deacons Danny Hartnedy and Jason Pohlmeier.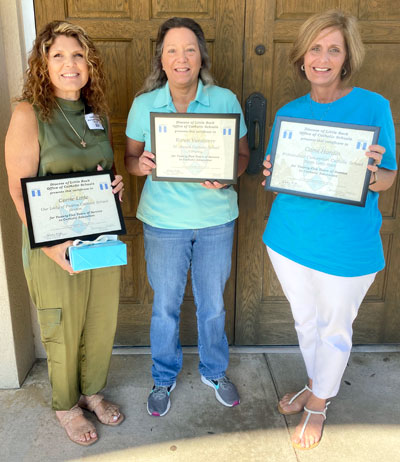 Five Catholic school staff members were recognized for 25 years of service in Catholic schools. The staff members were given plaques and gifts following Mass. They are Carrie Little (from left in photo), Our Lady of Fatima; Karen Vandivere, St. Joseph, Conway; and Carol Hardin, Immaculate Conception, North Little Rock. Kelly Throesch, librarian, St. Paul, Pocahontas; and Kim Hills, secretary, St. Paul, Pocahontas, were also honored, but didn't attend the event.
Catholic speaker Caitie Cataldo delivered the keynote presentation, "Transformed as a Teacher in Christ." Cataldo holds a bachelor's degree in pastoral theology from Marian University. She most recently worked as the senior theology teacher and director of campus ministry at Central Catholic in Lafayette, Indiana. She was a foster mom to at-risk teens before adopting her son who is now three. She has traveled around the country speaking to Catholic youth, parents and teachers and as one-half of the comedy duo Nun and Nunner.
This year teachers picked up box lunches and took them to "lunch and learn" sessions, which included a two-and-a-fourth-hour session on artificial intelligence and TRIS (The Arkansas Trauma Resource Initiative for Schools), or one-hour grade level roundtable discussions. More break-out sessions were offered in the afternoon from 1:15 to 2:15 p.m.
They included sessions on differentiated instruction, strategies for English learners, behavior management in the preschool classroom, teaching the faith in non-religion subject areas, linking assessment with growth, utilizing Northwest Evaluation Association (NWEA) testing data, Theology of the Body, math, reading, economics, social studies and using social media to promote your school.
Various vendors were on hand for educators to visit in the Christ the King Family Life Center. Breakfast sponsors were: W. H. Sadlier, the Toggery, McGraw Hill Education, TRIS, FACTS, Apptegy, Friendzy, and Educate, LLC. Lunch sponsors were: A Reason For, Studio 3:16, Archangel Tablets, and i-Ready Curriculum Associates.
This event is sponsored by the diocesan Office of Catholic Schools. For more information, contact Ileana Dobbins, associate superintendent of Catholic schools, at (501) 664-0340, ext. 322.