Pick up your CRS Rice Bowl at Mass today
Published: February 26, 2020
"Today too, there is a need to appeal to men and women of good will to share, by almsgiving, their goods with those most in need, as a means of personally participating in the building of a better world. Charitable giving makes us more human, whereas hoarding risks making us less human, imprisoned by our own selfishness." — Pope Francis, 2020 Lenten Message
When you go to Mass today, don't forget to pick up your CRS Rice Bowl. This annual Lenten project encourages participants to perform a simple sacrifice by substituting a low-cost meatless meal for more expensive dining once a week, and put the money saved in the cardboard "rice bowl." Donations may also be made online.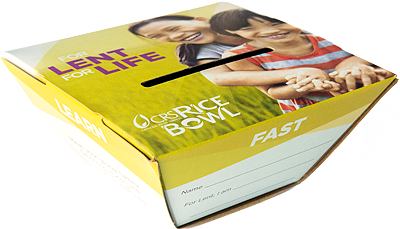 Every year Catholic families from 14,000 communities across the United States are using nearly 4 million rice bowls for almsgiving, which are turned in at the end of Lent. The money collected, which is about $12 million annually, is distributed to those in need.
Seventy-five percent goes to support CRS' (Catholic Relief Services') humanitarian and development programs outside the United States, while 25 percent remains in the local diocese from which the donation came. In the Diocese of Little Rock, $27,073.13 was collected in 2019 through CRS Rice Bowl. The 25 percent of this amount that remained in Arkansas was used to assist low-income people through Catholic Charities of Arkansas.
While participants are dropping money in their rice bowls, they are also challenged to learn about the people they are sacrificing for. CRS (Catholic Relief Services) provides prayer resources and reflections, a daily Lenten calendar, digital retreat, weekly stories of hope that introduce families from around the world and recipes from various countries for meatless meals that can be enjoyed on Fridays during Lent. These materials are designed for families, parishes, educators and dioceses in English and Spanish. For more information about CRS Rice Bowl, visit CRS Rice Bowl or contact Rebecca Cargile at (501) 664-0340, ext. 355.
---