History of the Diocese of Little Rock
Overview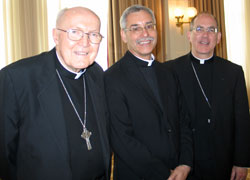 Bishops Andrew J. McDonald, Anthony B. Taylor and J. Peter Sartain pose for a photo prior to Bishop Taylor's ordination and installation as the diocese's seventh bishop on June 5, 2008.
The history of the Catholic Church in Arkansas has reflected how a relative few can affect the many. Missionary priests introduced Christianity in the 16th century. Nearly 300 years later, a religious order of nuns opened the first school in a newly minted state. The Diocese of Little Rock worked from its inception to build colleges, hospitals, churches and help settle the Arkansas River Valley. All this when Catholics accounted for less than 2 percent of the population.
In the 20th century, the Church shepherded its congregation through two world wars followed by decades of seismic social and theological change. The diocese opened a seminary in the early 1900s to train priests, closed it in the turbulent '60s and now struggles with a dearth of religious vocations.
In 2007, Catholics represented roughly 4 percent of Arkansas's 2.8 million residents. Political refugees and immigrants swelled parish rolls, beginning in the 1970s. The diocese adapted to its shifting demographics by opening new ministries, ordaining deacons, and activating the laity to further the causes of peace, justice and a respect for life.
Pre-History: 1541-1836
A dozen Catholic priests accompanied Spanish explorer Hernando de Soto down the Mississippi River in 1541 to a Quapaw Indian village near present-day Helena-West Helena, where they lifted a cross and sang praise to God. This marked the first Christian ceremony within the future boundaries of Arkansas.
In 1682, French explorer Rene-Robert Cavelier, Sieur de La Salle claimed the territory for a Catholic king, Louis XIV of France. A La Salle lieutenant, Italian-born Henri de Tonti, established Arkansas Post at the mouth of the Arkansas River but scrapped plans for a Jesuit chapel and mission house after battles with the Indians.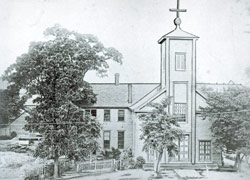 The first Cathedral of St. Andrew, at 2nd and Center streets in Little Rock, was consecrated in November 1846.
Father Jacques Gravier, a Jesuit priest, celebrated the first Catholic Mass in a Quapaw village on Nov. 1, 1700. Bernard de la Harpe took an exploratory trip up the Arkansas River in search of gold and silver in 1722, and rumors of wealth brought French and German emigrants a year later.
The land swung back and forth between French and Spanish rule as ecclesiastical progress waxed and waned. St. Mary Church was built at Arkansas Post in the late 1700s. It is believed to be the first Catholic church built in Arkansas.
After the United States acquired the Arkansas territory in the Louisiana Purchase of 1803, newcomers arrived from Europe, Africa and older Southern states. Most were Protestant. Father Ennemond Dupuy built a new St. Mary Church along the Arkansas River, downstream from Pine Bluff, in 1832.
He was the only priest living in Arkansas upon statehood in 1836. The Sisters of Loretto opened St. Mary's Academy, the first Catholic school in Arkansas, at the parish in 1838. Because of continual problems with flooding, St. Mary Church was moved to its present location in Plum Bayou in 1869.
A Fledgling Diocese: 1836-1867
Pope Gregory XVI established the Diocese of Little Rock on Nov. 28, 1843. His appointed bishop, Andrew J. Byrne, was consecrated March 10, 1844, in New York and rode into Little Rock on horseback June 4. The Irish-born bishop found a scattered Catholic population of possibly 700.
Bishop Byrne established the College of St. Andrew in Fort Smith in 1849 and envisioned a colony of Irish immigrants in the west Arkansas city, even traveling to his home country to recruit Catholic families.
Though that dream was never realized, the bishop persuaded an Irish order of nuns, the Sisters of Mercy, to come to Little Rock, where they founded Mount St. Mary Academy in 1851.
The bishop battled a wave of anti-Catholic sentiment fueled by the Know Nothings, a quasi-political party. The church in Helena was burned in 1854. As the country edged closer to Civil War, soldiers occupied diocesan property in Fort Smith. Bishop Byrne died June 10, 1862, in Helena. Arkansas remained a sede vacante (vacant see) for nearly five years. A new bishop was not appointed until 1867.
Post-War Rebuilding: 1867-1906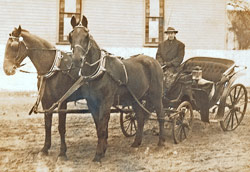 Bishop Edward Fitzgerald
Edward M. Fitzgerald, another Irishman, came to Arkansas by steamboat after his consecration as the second bishop of Little Rock on Feb. 3, 1867, in Columbus, Ohio. At age 33, the nation's youngest prelate rebuilt churches and mission stations damaged by the Civil War. While in Rome for the First Vatican Council of 1869-1870, Bishop Fitzgerald publicly opposed the doctrine of papal infallibility, which states the pope is always correct when he speaks ex cathedra on church doctrine. The young bishop explained that to vote otherwise would have hampered evangelization efforts in Arkansas, where there were fewer than 2,000 Catholics.
The cornerstone for the Cathedral of St. Andrew was set July 7, 1878, at Seventh and Louisiana in Little Rock. An English gothic structure arose as the first building constructed of Arkansas granite, hauled in from the Fourche Mountains. The Cathedral was consecrated on the first Sunday of Advent in November 1881.
In 1884, Bishop Fitzgerald attended the Third Plenary Council in Baltimore, where he heard the call for U.S. bishops to build a Catholic school in every parish. This proved a daunting task for a poor rural diocese, yet Bishop Fitzgerald, at his Silver Jubilee in 1892, could point to 31 schools and 58 churches either built or under construction. The Catholic population approached 10,000, with 32 priests.
Much progress owed to the bishop's business acumen. He worked with the Little Rock and Fort Smith Railroad Company to award land to settlers from Germany, Italy, Poland and Switzerland. The railroad donated 640 acres in Logan County to the Benedictine fathers who built St. Benedict's Priory, now Subiaco Abbey.
Religious orders opened four hospitals around the turn of the century. In 1888, the Sisters of Charity founded Charity Hospital (now St. Vincent Infirmary Medical Center) in Little Rock and the Sisters of Mercy opened St. Joseph's Hospital in Hot Springs. The Olivetan Benedictine Sisters established St. Bernard Hospital in Jonesboro in 1900, amid a yellow fever epidemic. In 1905, the Sisters of Mercy named their new Fort Smith hospital St. Edward's to honor Bishop Fitzgerald, who lay paralyzed by a stroke. The bishop died Feb. 21, 1907, in Hot Springs.
Building on Faith: 1906-1946
The third bishop of Little Rock, John B. Morris of Tennessee, had been appointed diocesan coadjutor in 1906 and took office immediately upon the death of Bishop Fitzgerald. He continued mission work among black Arkansans, establishing black Catholic parishes in Little Rock, North Little Rock, El Dorado, Fort Smith, Helena, Hot Springs and Lake Village.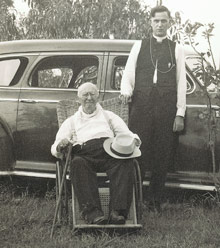 Bishop John B. Morris and Bishop Albert
L. Fletcher in the early 1940s.
Bishop Morris extended diocesan support to the discarded and disadvantaged. He founded St. Joseph's Orphanage near North Little Rock, entrusting the children to Benedictine sisters; the Morris School for Boys near present-day Searcy, under the tutelage of Franciscan brothers; and St. Michael's in Hot Springs, a school for wayward girls run by the Sisters of Our Lady of Charity and Refuge.
Bishop Morris opened St. John Home Missions Seminary at 25th and State streets in Little Rock with 10 students and four priest-teachers on the Little Rock College campus in 1911. It was placed under the patronage of St. John the Baptist. Msgr. W.H. Aretz, the first priest ordained by Bishop Morris, was the first rector.
In its first 12 years, the seminary trained 45 priests, including 38 for its home diocese. This led to a system of assigning newly ordained priests as assistant pastors of established parishes, which brought in mission stations as satellite churches. The bishop wanted to be able to supply priests to the diocese and he wanted to encourage more native vocations. He didn't like the fact that the state's seminarians were educated "far away from the scene of their future labors."
After outgrowing its buildings, from 1916 to 1920, Little Rock College and St. John Seminary moved to a new campus in the Pulaski Heights area of Little Rock. It was recognized as the south "oldest and finest" seminary," located on 40 acres bordering the city limits. In 1920 the seminary separated from the college and moved back to the buildings downtown. In 1929, following the economic depression, Bishop Morris announced he was closing Little Rock College and moving the seminary back to the Heights. The old seminary building then became home to the new Catholic High School for Boys.
By 1940, more than 33,000 Catholics attended 125 churches in Arkansas. The state's 141 priests included 59 native-born. One, Albert L. Fletcher, was appointed auxiliary bishop in 1940. Bishop Morris died Oct. 22, 1946, in Little Rock.
Race, Vatican II and Vietnam: 1947-1972
The first Arkansan raised to the Catholic Church hierarchy, Bishop Fletcher became the fourth bishop of Little Rock on Feb. 11, 1947. His quarter century of service spanned canonical and social change that shook the Church and the world.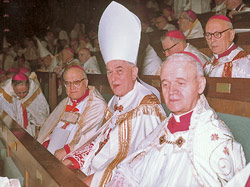 Bishop Albert Fletcher (second from right) at the Second Vatican Council in Rome.
The civil rights movement led to the closing of most black Catholic churches in Arkansas over a 12-year period, beginning in 1954 when the U.S. Supreme Court outlawed segregated schools. After the Arkansas National Guard blocked nine black students from entering Little Rock Central High School in 1957, Bishop Fletcher wrote in the diocesan newspaper that it was wrong to interfere with peaceful integration. By 1962, Catholic High and Mount St. Mary began enrolling black students.
From 1962 through 1965, Bishop Fletcher attended fall sessions of the Second Vatican Council. For Arkansas Catholics, the most noticeable change arising from Vatican II happened the first Sunday of Advent in 1964 when the priest faced the people to celebrate Mass in English.
In the latter part of the 1960s, Bishop Fletcher split with young priests teaching at St. John seminary on social and theological questions, including birth control and papal infallibility. After a seminary priest wrote a series of newspaper articles critical of Catholic doctrine, the seminary closed in 1967. In 1968, the former seminary campus was renamed St. John Catholic Center and became the home of the Diocese of Little Rock offices.
The Vietnam War proved as divisive for the church as it did for the nation. Bishop Fletcher declined to vote with most U.S. bishops in their resolution calling for an end to the war and, later, he opposed amnesty for draft evaders. In July 1972, the Vatican accepted the resignation of Bishop Fletcher, who had reached the mandatory retirement age of 75. He died Dec. 6, 1979, in Little Rock.
The Church in Action: 1972-2000
Andrew J. McDonald of Savannah, Ga., became the fifth bishop of Little Rock on Sept. 5, 1972. Three months later, the church in Arkansas, home to more than 55,000 Catholics, was reassigned from New Orleans (where it had been part of the Southern province since 1850) to the archbishopric of Oklahoma City.
Social action defined Bishop McDonald's tenure. Church offices emerged to serve a rapidly growing Hispanic population and to welcome political refugees from Vietnam, Cuba and Central and South America. The diocesan Office of Justice and Peace championed fair treatment at home for people lacking food, adequate housing and other necessities while joining an international push for nuclear disarmament. Bishop McDonald endorsed amnesty for Vietnam-era draft evaders in 1974.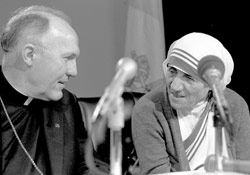 Bishop Andrew J. McDonald talks with Mother Teresa of Calcutta at a rally at Ray Winder Field in Little Rock, June 3, 1982.
The U.S. Supreme Court decision released Jan. 22, 1973, legalizing abortion triggered an immediate protest from Bishop McDonald in words and action. The annual March for Life processes down Capitol Avenue in Little Rock each January to advocate for the rights of the unborn. Mother Teresa of Calcutta opened a home for unwed mothers in Little Rock in 1982. During her visit, she spoke at a rally at Ray Winder Field, attended by more than 5,400 people, making it the second largest Catholic assembly in Arkansas history.
An active laity found purpose in myriad programs. A local couple developed the now widely distributed Little Rock Scripture Study program to deepen an appreciation and understanding of the Bible. RENEW helped unify parishes through small-group sharing. Cursillo weekends strengthened friendships in a spirit of community. Couples participated in Pre-Cana programs to prepare for marriage, Marriage Encounter retreats to strengthen relationships and Retrovaille sessions to heal them.
Bishop McDonald, a strong advocate of ecumenism, joined interfaith efforts to further humanitarian causes. By 1993, the Catholic population exceeded 75,000, but the decrease in vocations to the priesthood and religious life had accelerated. Bishop McDonald, as required by age, submitted his resignation in 1998 and formally retired Jan. 4, 2000.
A Second Language: 2000-2008
A crowd of 2,600 saw J. Peter Sartain of Memphis installed as the sixth bishop of Little Rock on March 6, 2000. Under his leadership, the Church intensified its Hispanic ministry. The bishop took Spanish lessons, dedicated Hispanic-led parishes in southwest Arkansas, led an eight-day pilgrimage to Mexico in 2004 and joined U.S. bishops in calling for immigration reform based on human dignity. Bishop Sartain also pushed for more priestly vocations. In 2005 he led 5,000 Catholics in a daylong Eucharistic Congress in Little Rock.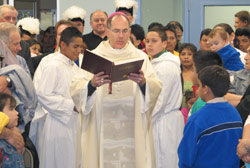 Bishop J. Peter Sartain dedicates St. Andrew Church in Danville Jan. 15, 2006.
A gifted writer and powerful speaker, Bishop Sartain held national offices within the U.S. Conference of Bishops. His appointment May 16, 2006, as bishop of Joilet, though sudden, was not surprising. The Catholic population of Arkansas approaches 113,000, with much of the growth in western sections where Mexican-born laborers work in poultry plants. Elsewhere, a lack of students forced the closing of four Catholic elementary schools from 2001 to 2007, in Blytheville, El Dorado, Hot Springs and Little Rock.
Msgr. J. Gaston Hebert was appointed administrator June 29, 2006, of a diocese left sede vacante, without a bishop. Since that time, the diocese has enjoyed an increase in seminarians, particularly ones from other countries. Of the diocese's 22 men studying for the priesthood in 2007, nearly half represent other cultures, including Mexico, Argentina, El Salvador, the Dominican Republic, Nigeria and Vietnam.
In October 2007, for the first time in the diocese's history, a formal declaration of excommunication was issued by the Catholic Church for six nuns in Hot Springs. The Monastery of Our Lady of Charity and Refuge sisters received the penalty for their continued involvement in the Community of the Lady of All Nations, also known as the Army of Mary. It is a schismatic association based in Quebec, Canada.
The Internet Age: 2008 to Present
Pope Benedict XVI named Father Anthony Basil Taylor, of the Archdiocese of Oklahoma City, the seventh bishop of the diocese April 10, 2008. Bishop Taylor, 54, was ordained at the Statehouse Convention Center in Little Rock on June 5, 2008. Archbishop Eusebius J. Beltran of Oklahoma City was principal consecrator. Bishops J. Peter Sartain of Joliet, Ill. and Edward Slattery of Tulsa, Okla. were co-consecrators. More than 3,400 people attended the celebration held in the Governor's Hall.
During the ordination, Bishop Taylor told the assembly: "In all of you I have experienced what Paul describes in 1 Corinthians 12:26, 'If one of the parts of the Body of Christ are honored, all the parts share its joy.'"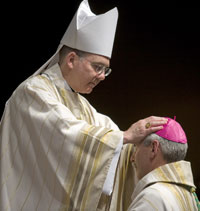 Bishop J. Peter Sartain lays hands
on newly ordained Bishop Anthony
B. Taylor at his ordination and
installation June 5, 2008.
Bishop Taylor became the first American Catholic bishop to join Facebook, a popular social networking website, shortly after his ordination to connect with people online. He began posting his homilies and speeches and reaching people worldwide. Also in June 2008, the bishop accepted 50 men to begin diaconate formation, making it the largest class in the history of the diocese, a plan that had been set in motion by Diocesan Administrator Msgr. Hebert. It is the sixth diaconate formation class since it was reinstituted in the state in 1977 and the first class in 10 years. The group was divided into a Spanish-speaking class and an English-speaking class. By November 2012, the bishop ordained 40 of these men to the permanent diaconate.
On Nov. 5, 2008, Bishop Taylor issued his first pastoral letter, "I Was a Stranger and You Welcomed Me…: A Pastoral Letter on the Human Rights of Immigrants." In the bilingual document, the bishop said immigration reform should begin with protecting the human rights of all immigrants, regardless of their legal status. In 2009, he spoke out against anti-immigrant legislation and in favor of health care reform. He reorganized the diocese's deaneries, launched a pastoral planning process, established a special collection for diocesan seminarians and sent priests to learn Spanish. He visited parishes statewide blessing churches and confirming young people. The bishop traveled to South America for the first time and provided pastoral care to parishes devastated by natural disasters and priest scandals. And he exercised his authority to ordain for the first time by ordaining two seminarians to the transitional diaconate and two others to the priesthood.
On May 22, 2010, Bishop Taylor presided over the largest priestly ordination in the Diocese of Little Rock in 44 years. On that day, he ordained four men to the priesthood at Christ the King Church in Little Rock. Later on July 17, 2010, he ordained another at Subiaco Abbey, bringing the total to five in one year, a blessing that had not occurred in more than two decades.
"Gospel Without Borders," a documentary that explores the issue of immigration from a faith-based perspective, was released in August 2011. It features an interview with Bishop Taylor and footage from St. Peter Church in Pine Bluff. The U.S. Conference of Catholic Bishops sent DVDs of the film and accompanying study guides to all U.S. Catholics bishops. In the Diocese of Little Rock, the film was presented to priests and copies were ordered for all parishes in the state. The bishop recommended the film and study guide to parishes to use as a Lenten study in 2012.
The following month Bishop Taylor launched "Open Your Hearts in Welcome!" an initiative that identified his top four priorities for the Diocese of Little Rock through March 2013, including: 1.) Welcoming the English translation of the New Roman Missal; 2.) Welcoming natural family planning for all engaged couples of child-bearing age; 3.) Welcoming the newcomers in our midst; this includes those joining the Church, immigrants, young adults and retirees new to the state, and those who have left the Church and want to return; 4.) Welcoming the Lord's call in your life, including a possible call to the priesthood.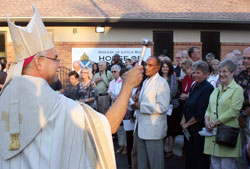 Related to these priorities, the following occurred. In November, the "Roman Missal, Third Edition" replaced the Sacramentary in English-languages Masses in the Roman Catholic Church. As of Jan. 1, 2012, engaged couples of child-bearing age are now required to attend natural family planning classes as part of their marriage preparation to get married in the diocese. And on March 8, 2012 Bishop Taylor blessed the site of the new House of Formation for those discerning a vocation to the priesthood. It is located on the grounds of Our Lady of Good Counsel Church in Little Rock.
In January 2012, Bishop Taylor joined other U.S. bishops in speaking out against a mandate from the U.S. Department of Health and Human Services (HHS) that requires nearly all private health care plans to cover sterilization, abortion-inducing drugs and contraception. Efforts to repeal the mandate continue.
In March, the bishop made his first "ad limina" visit to the Vatican. During the six-day trip he met with Pope Benedict XVI and Vatican officials to discuss a wide range of pastoral matters. Bishop Taylor was joined by the bishops of Texas and Oklahoma that make up Region X.
In May 2012, the diocese had 35 seminarians studying for the priesthood. At the same time, the Catholic population in Arkansas continued to grow. Overall, 137,287 people were registered in parishes across the state. According to the Official Catholic Directory, that number increased significantly since 2000, when only 93,480 were registered in parishes. The largest single parish was St. Raphael Church in Springdale, which had 20,857 parishioners.
Bishop Taylor recorded a special homily that was played at all Masses to kick off the universal Year of Faith in October, which continued through November 2013. Later that month, the bishop, a member of the U.S. bishops' Committee on Migration, led a fact-finding mission to Egypt, Lebanon, Jordan and Turkey to learn about the worsening conditions for Syrian refugees.
On Feb. 28, 2013, Pope Benedict XVI resigned because of his advancing age and the resulting effects on his ability to effectively lead. It was the first time a pope resigned the Chair of St. Peter in 600 years. Two weeks later, Cardinal Jorge Mario Bergoglio, 76, of Buenos Aires, Argentina, was elected the 266th pope of the Catholic Church on March 13, 2013. He took the name Pope Francis. He was the first pope from the Americas and first from the Jesuit religious order.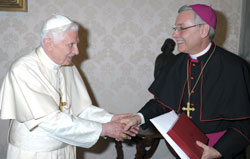 As a result, he did things differently drawing attention and popularity worldwide. The new Holy Father released two documents in 2013, "Lumen Fidei" ("The Light of Faith") in July and "Evangelii Gaudium" ("The Joy of the Gospel") in November. By the end of the year, Time magazine named him "Person of the Year" and he was the most talked about person on the Internet.
In Arkansas, the 89th General Assembly of the Arkansas state legislature opened Jan. 14, 2013, and the Diocese of Little Rock worked to bring awareness to issues that need to be addressed such as human trafficking, the death penalty, health care and abortion. Bills to strengthen penalties for human trafficking, outlaw most abortions after 20 weeks of pregnancy and ban most abortions after a heartbeat is detected, were all passed by the general assembly.
These pro-life laws received attention for being among the most restrictive in the nation and praise from pro-life leaders, including Father Frank Pavone, national director of Priests for Life. The Pain-Capable Unborn Child Protection Act became law Feb. 28, but the Arkansas Human Heartbeat Protection Act was halted when U.S. District Judge Susan Webber Wright granted a preliminary injunction preventing the law from going into effect until the legal issues were resolved. Lawmakers also passed legislation to exclude abortions from being covered by the state's insurance exchange, in accordance with a provision of the Patient Protection and Affordable Care Act.
Bishop Taylor testified before the Senate Judiciary Committee Jan. 30 urging the state to abolish the death penalty and also appealed to Catholics statewide to support this effort. The following day he released statement titled "Arkansas, Medicaid and the Common Good" as the Arkansas Legislature debated whether to expand Medicaid coverage.
The bishop said approving the expansion to cover an additional 250,000 uninsured Arkansans should be a priority because it relates directly to respect for life and human dignity. A compromise was reached with the passage of the Healthcare Independence Act of 2013, which provides a "private option" for low-income Arkansans to obtain private health insurance.
In September, Bishop Taylor appealed to all Arkansans to contact the state's U.S. representatives to support comprehensive immigration reform. A month later, rallies organized by Southerners Unified for Dignity and Reform were held in Little Rock and Rogers. The bishop spoke from the steps of the Arkansas State Capitol during the Oct. 12 event in Little Rock. He said governments have no right to unreasonably impede immigrants striving for a better life. He expressed similar thoughts in a homily he delivered the following day at the Cathedral of St. Andrew in Little Rock.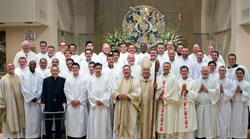 An ongoing plan to sell Mercy Hospital Hot Springs to private Capella Healthcare was called off because of a lack of diocesan, Vatican and Federal Trade Commission support. Mercy Hot Springs later entered into talks with St. Vincent Health System and finalized the deal for what became St. Vincent Hot Springs in April 2014.
Vocations to the priesthood continued to grow in 2013. The diocese reached 41 seminarians, the highest number since 1965 when the diocese operated St. John Home Missions Seminary in Little Rock. It was a 27-percent increase over 2012 and a 56-percent increase over the past decade.
Year in Review: 2014 to Present