Wonders of Mexico set for Sept. 13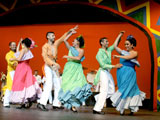 The Diocese of Little Rock and the Consulate of Mexico in Little Rock are sponsoring a performance to celebrate the 204th anniversary of Mexican independence on Saturday, Sept. 13 at the Reynolds Performance Hall at the University of Central Arkansas in Conway.
The Sol Azteca Ballet Folklorico of Tulsa, Okla. will perform "The Spectacular Wonders of Mexico," which will include music, dance and Mexican tradition. Doors will open at 6 p.m. and the program will begin at 7 p.m. Tickets are $12 each and may be reserved in advance by contacting us. Order tickets in English or Spanish. They may also be purchased at the door.
Programs to support marriage to be offered
The diocese's Family Life Office is sponsoring three programs in September to honor and strengthen marriages: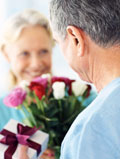 Pre-Cana Day, a one-day retreat for engaged couples to spend time together reflecting on their relationship and future marriage, will be held Sept. 6 at Christ the King Church in Little Rock and Sept. 13 at Immaculate Conception Church in Fort Smith. Register online one week prior to the event. This program is also provided in Spanish. It will be offered Nov. 1 at St. John Catholic Center in Little Rock. Register online one week prior to the event.
Worldwide Marriage Encounter, a weekend for couples with good marriages who wish to make them better, will be held Sept. 19-21 at Coury House Retreat Center at Subiaco Abbey. To register, download and return to the registration form. The Spanish-language version, Encuentro Matrimonial, will be held Oct. 24-26 at St. John Catholic Center in Little Rock. To register, download and return to the registration form.
Retrouvaille, a program for those in troubled or hurting marriages, will be held Sept. 19-21 at St. John Catholic Center in Little Rock. Separated and divorced couples are also encouraged to attend. To learn more, download the brochure or register online. For information about Retrouvaille in Spanish, download the brochure, or contact Elizabeth Reha at (501) 664-0340, ext. 373.
Get a free Diocese of Little Rock Directory
The annual Diocese of Little Rock Directory will be mailed free to all paid subscribers of Arkansas Catholic in September. This award-winning, diocesan newspaper prints local, national and international news from a Catholic perspective.
Subscribe before Sept. 12 for the print or digital edition and get the annual diocesan directory, a $10 value, mailed to you for FREE on Sept. 27. A print subscription costs only $24 a year ($21.95 for digital). Subscribe by visiting Arkansas Catholic or by calling (501) 664-0125.
This year's cover features the stained-glass window at Our Lady of the Assumption Church in Booneville. The photo was taken by Elaine Jones of Sherwood. On Aug. 15, 1956, the original church was built and staffed by Benedictine priests from Subiaco Abbey. A new church was dedicated by Bishop Anthony B. Taylor on April 4, 2014.
Ministry Spotlight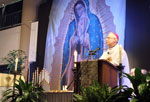 Office of the Bishop
Through the Office of the Bishop, Bishop Anthony B. Taylor shepherds the people of the diocese with the assistance of his priests who lead the parishes and ministries under the bishop's guidance and leadership. Together they work to proclaim the Good News of Jesus Christ with the goal of leading all people to eternal life in heaven. Learn more
---
What's New
---
Special Features
---
Submit an Event
Aug. 28 - Aug. 31: Encounters of Youth Promotion Men's Retreat #23
Aug. 29 - Aug. 30: Mariology Course
Aug. 29 - Aug. 31: "Jesus: In the Four Gospels" Course
Aug. 30: Pre-Labor Day Bazaar
---
Subscribe
Moral donations aid research via Ice Bucket Challenge
Catholic principals, clergy get doused to aid moral research of Lou ...
Parishes experiment with 'unconventional' VBS format
New trends in vacation Bible school offering something for everyone ...
Father Keller stood against evil where he found it
Little Rock's own Father Thomas Keller retires from active ministry ...
---