Testify to Love
"We know that Christ, raised from the dead, dies no more; death no longer has power over him. As to his death, he died to sin once and for all; as to his life, he lives for God. Consequently, you too must think of yourselves as being dead to sin and living for God in Christ Jesus." (Romans 6:9-11) In his Easter homily, Bishop Anthony B. Taylor challenged us to do our part in spreading this Good News: "What this means, my brothers and sisters, is that regardless of your qualifications or perceived lack thereof, your testimony matters too. If you've experienced the life-changing mercy and forgiveness of Jesus, you've got something to share!" Read his homily. The word "Easter" comes from Old English, meaning simply the "East." The sun, which rises in the East, "bringing light, warmth and hope, is a symbol for the Christian of the rising Christ, who is the true light of the world." The proclamation of Easter continues until Pentecost Sunday, which marks the gift of the Holy Spirit to the Apostles and birthday of the Church. The greatest of all liturgical seasons, Easter is a time to rest in"the joy of glorified life and the victory over death, expressed most fully in the great resounding cry of the Christian: Alleluia!" Learn more
To our new Catholics: Welcome!
Catholic parishes across Arkansas welcomed more than 500 new Catholics into the Church during Easter Vigil Masses April 19. They participated in their parish's Rite of Christian Initiation of Adults process and received the sacraments of initiation — baptism, confirmation and Eucharist. The list of all those who entered the Church in Arkansas can be found in the April 19 issue of Arkansas Catholic. Some explained why they became Catholic, including a teen from Cabot. Parish leaders attribute increased participation in RCIA to the "Francis effect." Find out about new Catholics nationwide, by visiting the U.S. Conference of Catholic Bishops.

In his homily at the Easter Vigil Mass at the Cathedral of St. Andrew in Little Rock, Bishop Anthony B. Taylor encouraged not only those being initiated, but all present in spreading the Gospel. "We are initiated into this new life through the sacrament of baptism, which produces in us an irrepressible passion to share this gift of God's love with others," Bishop Taylor said. "And then we are empowered and enlightened by the Holy Spirit in the sacrament of confirmation — again, apart from any specific training — which enables us to be bold and creative in living and proclaiming this Good News of rebirth, of a fresh beginning with the slate wiped clean, with special concern for the weakest and most broken among us." Read the homily
Divine Mercy Sunday set for April 27
Each year Divine Mercy Sunday is celebrated on the Sunday following Easter. This year it will be April 27. The celebration of Christ's resurrection continues with this feast, which recognizes that God's love and mercy endure forever and overcome any sin which separates us from him. St. Faustina Kowalska is the Polish nun who promoted the divine mercy devotion and was canonized by Blessed John Paul II in 2000. This year the devotion coincides with the canonization Mass for Blessed John XXIII and Blessed John Paul II at 10 a.m. on April 27. Those in attendance may participate in the the Chaplet of Divine Mercy, a series of prayers focusing on the gifts of God's mercy, especially shown through the passion of Christ.
The divine mercy devotion began in the late 1930s by St. Faustina, who had a vision of Jesus where he asked for devotions to divine mercy. On Divine Mercy Sunday, parishes often host holy hours, which might include adoration of the Blessed Sacrament, the Chaplet of Divine Mercy, Benediction, Praises of Divine Mercy, Litany of the Precious Blood, or other prayers and songs. Some churches also offer anointing of the sick and reconciliation. Find a list of parishes to host divine mercy events by visiting Arkansas Catholic, or visit Reconciliation Times in English or Spanish to find a parish offering this sacrament near you.
55 years of our Catholic history now digitized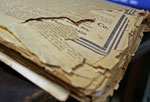 Much progress has been made to preserve diocesan history through Arkansas Catholic's Guardian Angel campaign. The weekly newspaper has digitized 33 volumes since April 2013, bringing the total volumes of The Southern Guardian and The Guardian available online to 55 years. With donations, the newspapers were electronically scanned, made searchable and available through Arkansas Catholic's online archive.
Since the campaign began in 2010, parishes, religious orders, businesses and individuals have donated $55,080. In the next two to three years, the newspaper will focus on getting the issues from 1966 to 2001 digitized. Digital editions from 2002 to the present are available through subscription to Arkansas Catholic Online. If you would like to help Arkansas Catholic preserve these years, download the donation form and mail it in with your contribution. Donors may sponsor a year in honor of a pastor, family member or parish for as little as $500. For more information, e-mail Malea Hargett or call her at (501) 664-0125.
Ministry Spotlight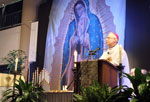 Office of the Bishop
Through the Office of the Bishop, Bishop Anthony B. Taylor shepherds the people of the diocese with the assistance of his priests who lead the parishes and ministries under the bishop's guidance and leadership. Together they work to proclaim the Good News of Jesus Christ with the goal of leading all people to eternal life in heaven. Learn more
---
What's New
---
Special Features
---
Submit an Event
April 23: Brown Bag Luncheon on Canonization Process
April 24: Bishop Anthony B. Taylor's Birthday
April 24 - May 29: Six-Week Series for Non-Practicing Catholics
April 25 - April 26: School of Spiritual Direction
---
Subscribe
Little Rock school adds archery to Phys. Ed. lineup
Holy Souls program introduces bows, arrows into the P.E. curriculum ...
Ministry binds two friends in common mission for life
Polar opposites, two Little Rock women share mutual mission for life ...
Teen candidate already living Catholic social justice
Anna Shelton, 16, enters Church with impressive resume of service ...
---