Merciful Embrace
| | | |
| --- | --- | --- |
| | | This year we celebrate Catechetical Sunday on Sept. 21 to the theme: "Teaching About God's Gift of Forgiveness," which reminds us that God's mercy is unending. On this day, parish religion and Catholic school teachers are commissioned to share their ministry for the 2014-2015 school year. A special collection is also taken up to support catechetical ministry. Half of the collection remains in the parish, while the other half supports catechetical ministry across the Diocese of Little Rock. Catechetical Sunday offers a chance for us to reflect on the role we play, by virtue of our baptism, in handing on the faith and witnessing to the Gospel. The U.S. bishops offer lots of materials to assist catechists, school teachers and families in this catechesis in addition to helping all of us better understand and rededicate ourselves to this mission as a community of faith. |
Religious jubilarians to be honored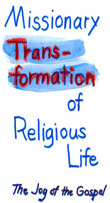 A jubilee celebration for religious men and women will be held from 9 a.m. to 3 p.m., Saturday, Sept. 20 at Our Lady of the Holy Souls Church in Little Rock. Bishop Anthony B. Taylor will speak to the theme: "Missionary Transformation of Religious Life: The Joy of the Gospel" and Abbot Jerome Kodell, OSB, will address the "Challenges for Consecrated Life."
During a noon Mass, the following religious jubilarians will be honored: 75 years, Sister Mary Alice Grace, OCD; 70 years, Sister Mary Lucille Sluyter, RSM; 60 years, Sister Madeline Bariola, OSB, Sister Mary Chabanel Finnegan, RSM, Father Bruno Fuhrmann, OSB, Father Raphael Kitz, OCD, Sister Rosalie Ruesewald, OSB, Sister Stephanie Schroeder, OSB; 50 years, Sister Mary Petra Masek, OCD, Sister Dorothea Moll, DC, Father John Michael Payne, OCD, Sister Joan Marie Pfauser, RSM, Sister Cecilia Toledo, CMST; 25 Years, Sister Marilyn Doss, OSB and Brother Andrew Suarez, OSB. For more information, contact Sister Joan Pytlik, DC, minister for religious, at (501) 664-0340, ext. 384.
Fall 40 Days for Life begins in Arkansas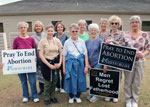 The fall campaign of 40 Days for Life will be held from Sept. 24 to Nov. 2 in Little Rock and Fayetteville. The kickoff in Little Rock will be at 2 p.m., Sunday, Sept. 21 on the sidewalk in front of #4 Office Park Drive. Then the vigil begins Sept. 24 from 7 a.m. to 7 p.m. each day.
People are invited to come and pray for an end to abortion. To learn more or sign up, visit 40 Days for Life - Little Rock, or call Mary Pate at (501) 231-8202 or Marsha Boss at (501) 960-5051.
Northwest Arkansas participants may attend training sessions Sept. 18 and 20. The Fayetteville vigil will be held in front of the Planned Parenthood clinic at 3729 N. Crossover Rd. To learn more, visit 40 Days for Life-Fayetteville or e-mail Julia Pritchett at 40daysnwa@gmail.com.
Six earn degrees through theology institute
Six Catholics from the Diocese of Little Rock graduated with a bachelor's degree in theology from St. Gregory University in Shawnee, Okla., during a ceremony Sept. 6 at St. John Catholic Center in Little Rock.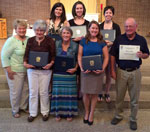 They are Mary Ruth Foster, Tina Hall, Denis Morbit, Sara Sullivan and Liz Tingquist, all of Little Rock, and Kalisa Newton of Rogers. The graduates participated in Little Rock Theology Institute for three years and took additional courses through the Oklahoma Benedictine college to earn their degrees.
Receiving certificates of completion were Brother Mattias Hagge, OSB, Russell Hoerman, Theresa Lutes, Mary Smith and George Toombs. Little Rock Theology Institute is a ministry of the diocesan Office of Faith Formation. For more information, contact Deacon Chuck Ashburn, director, at (501) 664-0340, ext. 368
Ministry Spotlight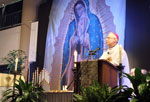 Office of the Bishop
Through the Office of the Bishop, Bishop Anthony B. Taylor shepherds the people of the diocese with the assistance of his priests who lead the parishes and ministries under the bishop's guidance and leadership. Together they work to proclaim the Good News of Jesus Christ with the goal of leading all people to eternal life in heaven. Learn more
---
What's New
---
Special Features
---
Submit an Event
Sept. 20 - Sept. 21: Catechetical Sunday
Sept. 20: International Dinner
Sept. 20: Religious Jubilarian Day
Sept. 20: Mass to Honor Religious Jubilarians
---
Subscribe
Ken Hiegel receives lifetime pro-life honor Sept. 13
Ken Hiegel of Little Rock receives Arkansas Right to Life's top ...
Pope: Spouses make each other better men and women
Pope Francis the first pontiff to preside over weddings since 2000 ...
Ken Eckert: Heart and soul of parish senior ministry
Ken Eckert stays young by helping others at his Little Rock ...
---