Rising Up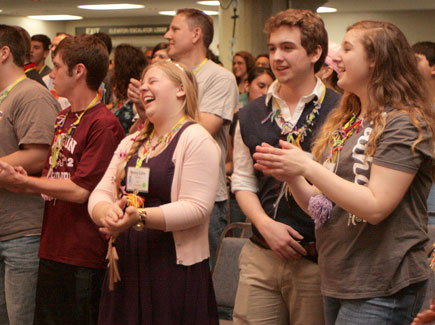 High school students Mary Cate Connell of Our Lady of the Holy Souls Church in Little Rock (center, from left to right) Ben Kueter of St. Mary Church in Paragould and Theresa Niemczyk of Our Lady of Fatima Church in Benton take part in the 64th annual Catholic Youth Ministry Convention May 10 at the DoubleTree Hotel and Robinson Convention Center in Little Rock. Nearly 400 high school youth from 30 parishes statewide took part in the three-day event. The theme: "Rise Up," was a challenge to the teens to take responsibility for their faith, to "own it, embrace it, be empowered by it," said Liz Tingquist, diocesan youth director.
Ordinations to be celebrated in 2013


Bishop Anthony B. Taylor will ordain Deacon George Sanders to the priesthood and Juan Guido, Robert Cigainero, Rick Hobbs and Jack Sidler to the transitional diaconate by the end of this year. These men are discerning the priesthood as seminarians of the Diocese of Little Rock. To learn more about their journeys, read their vocation stories or watch their testimonies on video.



Sanders' priestly ordination is set for 10 a.m., Saturday, Aug. 3 at Christ the King Church in Little Rock. The diaconate ordination schedule is as follows: Guido, 10 a.m., Saturday, May 18, St. Edward Church, Little Rock; Cignainero, 10 a.m., Saturday, May 25, St. Edward Church, Texarkana; Hobbs, 6 p.m., Wednesday, May 29, St. Boniface Church, Fort Smith; and Sidler, 10 a.m., Saturday, Dec. 14, St. Boniface Church, Fort Smith. Plans to ordain Guido, Cigainero and Hobbs to the priesthood are set for May 2014 at Christ the King Church in Little Rock. Sidler's priestly ordination date is yet to be determined. For more information, contact the Vocations and Seminarians Office
Special feasts reveal key teachings of faith
Pentecost Sunday is celebrated May 19 this year. It is considered the birthday of the Church, for it was on this day, that the Holy Spirit descended upon the Apostles and filled them with the gifts they needed to lead the Church. According to the Catechism of the Catholic Church, Pentecost instituted the "age of the Church, during which Christ manifests, makes present, and communicates his work of salvation through the liturgy of his Church, 'until he comes.'" (no. 1076).
Pentecost concludes the Easter Season, which leads into Ordinary Time. However, the many feasts that follow prove the season is anything but ordinary. Five special feasts, known as solemnities, take place through the end of June.
A solemnity honors events, beliefs and people of great importance in our salvation history through Jesus Christ. These include: the Most Holy Trinity, May 26; the Most Holy Body and Blood of Christ, June 2; the Sacred Heart of Jesus, June 7; the Nativity of St. John the Baptist, June 24; and Sts. Peter and Paul, Apostles, June 29. The Holy Trinity highlights our Triune God; three Persons in one: the Father, the Son and the Holy Spirit. The Body and Blood of Jesus, also called Corpus Christi, honors the Real Presence of Jesus in the Eucharist. Besides solemnities, many other feast days, celebrated throughout the liturgical year, help us remember saints who serve as models for Christian life.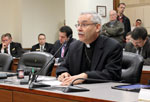 Ministry Spotlight
Social Action Office
The Social Action Office educates and promotes Catholic social teaching, the consistent life ethic and the social mission of the Church by presenting workshops and sending educational materials to parishes. It also supports legislative advocacy activities in the Diocese of Little Rock by studying state legislation and interacting with state representatives and senators to educate them on the Church's position on pending legislation. Learn more
---
What's New
---
Special Features
---
Submit an Event
May 21: ARmusica Benefit Concert
May 22: Fifth Grade Graduation
May 23 - May 27: Come and See Monastic Vocation Retreat
May 23 - May 27: May Monastic Plunge
---
Subscribe
David Mounsey: Texarkana parish's supreme volunteer
If it needs doing at St. Edward Church, David Mounsey is ...
Mount St. Mary Academy senior wins essay contest
Rachel Zimmerman tops a talented field to win Youth Essay Contest ...
Rise up young people
Catholic youth from across the state attend annual convention May 10 ...
---