Diaconate Formation Class of 2022
The Diocese of Little Rock is offering a five-year, bilingual permanent diaconate formation program to begin in the fall of 2017. Eligible candidates are Catholic men in good standing with the Church who are 35 years old or order. The program is offered through the diocesan Office of Faith Formation under the direction of Father Erik Pohlmeier.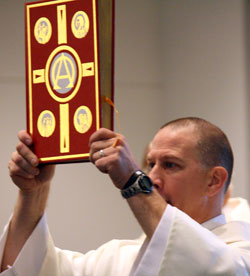 Discernment groups for the 138 men and their wives who inquired about the program began meeting in January 2016 in locations across Arkansas. The couples are attending monthly sessions to pray and discern whether they are being called to apply for diaconate formation.
Only those participating in the discernment process will be allowed to apply for the diaconate program in the fall of 2016. According to the Office of Faith Formation, 99 English-speaking men and 39 Spanish-speaking men and their wives signed up to begin the discernment process.
"We want to help potential deacons and their wives respond to that call in the right way, to understand not just a desire to serve but know if it is a call to the specific role of deacon. Everyone who participates in the discernment process will grow in their service to God and his people whether they end up in the deacon class or not," Father Pohlmeier said.
For applicants who are accepted into the program, classes will be taught monthly at St. John Catholic Center in Little Rock for deacon candidates and their wives beginning in September 2017. The first three years of candidacy will also correspond with the class time for the Little Rock Theology Institute.
The couples will take all the regular courses one weekend a month along with additional diaconate formation and would be able to earn a bachelor's degree in theology through St. Gregory University in Shawnee, Okla. The fifth and final year will focus solely on diaconate training, including homiletics and canon law.
The development of this formation class comes after a five-year break. Bishop Anthony B. Taylor ordained 40 English- and Spanish-speaking men from across the diocese to the permanent diaconate in November 2012. For more information, e-mail Father Pohlmeier in the Faith Formation Office or call him at (501) 664-0340.