Family Life Office
The Family Life Office develops, supports and coordinates marriage and family ministry in its many dimensions throughout the Diocese of Little Rock.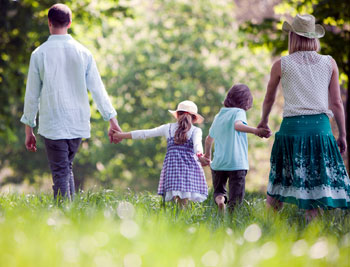 Emphasis is placed on St. John Paul II's statement: "The future of humanity passes by way of the family." (Familiaris Consortio, 86)
"Knowing that marriage and the family constitute one of the most precious of human values, the Church wishes to speak and offer her help to those who are already aware of the value of marriage and the family and seek to live it faithfully, to those who are uncertain and anxious and searching for the truth, and to those who are unjustly impeded from living freely their family lives.
"Supporting the first, illuminating the second and assisting the others, the Church offers her services to every person who wonders about the destiny of marriage and the family." (1.)
Engaged Couples
Because marriage is lifelong, the Church wants to help couples build strong, lasting marriages. For this reason, couples seeking marriage in the Catholic Church are asked to spend several months in marriage preparation. The following programs are available to couples seeking Catholic marriage in Arkansas:
Married Couples
What have you done for your marriage today? The U.S. bishops asked this question when their Committee on Marriage and Family Life and Communications began its For Your Marriage campaign in 2007. "The Church seeks to do all it can to encourage what goes into a solid marriage: prayer, fidelity, commitment and the little things that count," said Archbishop Joseph E. Kurtz of Louisville, Kty.
The campaign is part of a multi-year National Pastoral Initiative for Marriage of the U.S. bishops to convey the meaning and value of married life for the Church and society. On the local level, the Family Life Office offers the following programs to strengthen and restore marriages:
Worldwide Marriage Encounter

— A weekend experience for married couples to spend time together,

a

way from the distractions and tensions of everyday life, where they can focus on each other and their relationship

Retrouvaille — Program for troubled marriages that begins with a weekend away followed by three months of sessions to help hurting couples rediscover a loving marital relationship
Getting Married Guide
Getting married? Congratulations! Many decisions must be made from choosing the wedding dress and planning the honeymoon to picking the flowers and photographer. Because marriage is lifelong, the Church also wants to help you build a strong, lasting marriage. For this reason, couples seeking marriage in the Catholic Church are asked to spend several months in marriage preparation. To learn more, visit our Getting Married Guide.
Catholic Marriage Q&A
What is the meaning of sacrament of marriage?
Marriage is a covenant by which a man and woman form with each other an intimate communion of life and love. (Catechism of the Catholic Church) In marriage a man and a woman mutually consent to give themselves to each other totally and exclusively in a union that is unifying, indissoluble and open to life. When both the man and woman are baptized, their union is a sacrament. To learn more, see Marriage Q&A.