2028 — I Philosophy
Samuel Ray, Christ the King Church, Little Rock
Attends Assumption Seminary in San Antonio, Texas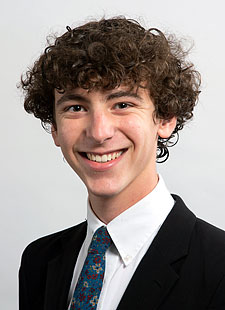 When I was little, my mother told me never to ask people about their religious beliefs or their political affiliations. So naturally, from a young age, I wanted to become a priest or a politician. I first had the idea in second grade. I was given a "pray for vocations" wristband and I refused to take it off for two years. I didn't know why.
Near the middle of my junior year of high school, I had to write reflections in religion class, which was taught by Father Patrick Friend. One day during lunch, he called me over to him and I had no idea what to expect. All he said was, "Do you know that your papers have 'priest' written all over them?" I gave him some smart response trying to escape the conversation. And to my surprise, it worked, but not in my favor. He told me to meet him after school. That is when I knew the real discernment had started.
Over this past summer, I was able to go on a mission trip to the Dominican Republic. While there, our team ran a Vacation Bible School for the local children. I was assigned to teach the children about the Bible because it was determined that I possessed the best Spanish skills of the group, even though it was limited. At first, I was a little disappointed that I wasn't allowed to play games with them or sing songs, but after praying, I realized that I was doing God's work. That is what really mattered.
On the fourth day of the trip, I chose to teach the children about John 1:1, "In the beginning was the Word, and the Word was with God, and the Word was God." I had read this verse before, but never in Spanish. While reading it aloud, I paused. I took a deep breath and a tear filled my eye. I felt a peace I had never felt before. The storm to which I had become oblivious had calmed. It did not last long and didn't feel like some crazy experience. At that moment, I knew I was doing exactly what God wanted, and I knew that I was being called to Spanish ministry.
I felt the same peace a second time only a few months later. It was a Tuesday in December and Catholic High was closed. On our day off, my best friend and I went hiking. He asked me about how my discernment was coming along. I told him that I was torn and why. My best friend says very little and has never pressured me into doing anything, but when he does speak, it is always heartfelt. He looked at me and said, "You should go to the seminary then."
I knew that this was the calling long ago, but I was not willing to respond. I knew what God was telling me through my best friend. As my process of discernment continues, I thank everyone for their help and prayers along the way.
If you wish to contact Samuel Ray, please e-mail Maria Izquierdo-Roque in the Vocations Office or call her at (501) 664-0340. This article was published July 1, 2020. Copyright Diocese of Little Rock. All rights reserved. This article may be copied or redistributed with acknowledgement and permission of the publisher.