2026 — I Philosophy
Joseph Jones, Cathedral of St. Andrew, Little Rock
Attends the House of Formation in Little Rock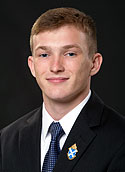 I first experienced a call to the priesthood at a very young age. During my kindergarten year at St. Patrick School, we took an oral exam on the Hail Mary and the Our Father. After I recited the prayers, my teacher asked me how and why I knew the prayers so well.
My response was, before I even knew what I was saying, "I have to know them. I'm going to be a priest." My teacher just laughed and thought it was funny that a five year old wanted to be a priest. At the time, I didn't think it was funny. I knew that I wanted to be a priest and serve God. I would later find out that this experience was God calling me.
That feeling of knowing God was calling me didn't last forever. All throughout middle school and high school, I kept on having thoughts about the priesthood, but I didn't really pay much attention to them. In December of my senior year, I felt God might be calling me.
I decided to go to the diocesan Come and See retreat. I was able to meet seminarians and see that they were regular people. I was also able to meet Msgr. Friend. He was able to help me understand that God had constantly been calling me throughout my life. I realized that I was just not listening; so I became determined to talk less and listen more.
During this retreat, Jesus spoke to me for the first time. It was during a period of silent prayer when I heard Jesus say, "Come. Why do you doubt?" I was stunned. These words were both a reminder and an invitation; a reminder that any hardship can be overcome with God's help and an invitation to live to serve God.
---