2026 — III Philosophy
Joseph Gabriel Jones, Cathedral of St. Andrew, Little Rock
Attends the House of Formation in Little Rock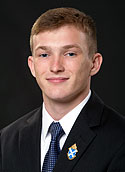 I first experienced a call to the priesthood at a very young age. During my kindergarten year at St. Patrick School, we took an oral exam on the Hail Mary and the Our Father. After I recited the prayers, my teacher asked me how and why I knew the prayers so well.
My response was, "I have to know them. I'm going to be a priest." My teacher laughed and thought that it was funny for a five year old to want to be a priest. However, I never found it very funny, for in my heart I knew that I wanted to be a priest and serve God.
The feeling of knowing that God was calling me to a deeper relationship with him persisted throughout my youth. In middle school and the first half of high school I kept having thoughts about the priesthood, however, I did not take this calling to heart. I would push the ideas out of my mind, or I would just ignore them.
In junior year of high school, I experienced a desire for a personal relationship with God. I had always gone to Mass on Sundays and had tried to be a "good person," but I felt like something was missing. I realized that the best thing that I could do with my life is to do whatever God wants me to do. This lead me to begin to pay attention to those thoughts of being a priest.
I decided to go to the diocesan Come and See retreat. I was able to meet seminarians for the first time and see that they were regular people. Through prayer and the encounters with the seminarians at the retreat, I felt an invitation, an invitation to live for Christ and for others.
For the past two years, I have lived at the House of Formation in Little Rock. I love being able to live and pray with all of the other seminarians. Living in a community is a blessing. All of us come from different backgrounds, but are all seeking to learn what God has planned for our lives.
God has used these past two years to teach me many things. He has taught me what it means to give of myself in service of those around me. He has shown me the great love that He has for me and also what it means to begin to love Him back. As I continue to discern God's plan for me, I am constantly reminded of his presence in my life by the prayers and support of the people of the diocese. I want to thank you and ask for your constant prayers.
If you wish to contact Joseph Jones, please e-mail Maria Izquierdo-Roque in the Vocations Office or call her at (501) 664-0340. This article was published July 1, 2020. Copyright Diocese of Little Rock. All rights reserved. This article may be copied or redistributed with acknowledgement and permission of the publisher.