Record $600,000 raised for Taste of Faith
Published: October 26, 2020
"The generosity of the people of God is incredible!" — Msgr. Scott Friend, vocations director
In July, Msgr. Scott Friend, vocations director for the Diocese of Little Rock, sent a letter to Catholic households across Arkansas asking for support for this year's Taste of Faith, an event that is normally an in-person dinner held four to five times a year to raise money for seminarian education. But this year, because of the COVID-19 pandemic, the dinners were combined into one, livestream event that everyone could watch online from the safety of their homes.
In his letter, Msgr. Friend wrote of the incredible generosity of the people of God, referring to the $3.8 million that had already been raised in the past 10 years at Taste of Faith dinners. "Without your investment, it would be impossible for us to prepare these men for the priesthood!" he added.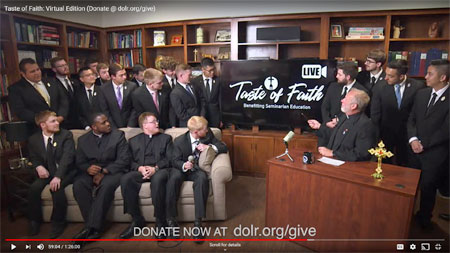 The goal was $500,000, which was the amount raised in 2019 and 2018. But that money was raised through in-person dinners. This was the first time to appeal for Taste of Faith donations without an in-person event, so the outcome, like so many other things in 2020, was unclear. The result far exceeded anyone's expectations. A total of $612,048 was collected to help pay for the education and living expenses of 30 seminarians this school year.
"This is by far the best we have done with Taste of Faith. I am overwhelmed by the support and generosity of our people in the diocese for our priests and seminarians," said Msgr. Friend referring to the results of this year's event.
"Taste of Faith: Virtual Edition" was livestreamed from the House of Formation on Saturday, Aug. 8 on our website, Facebook page or YouTube channel. It took the form of a late-night talk show featuring interviews with then-Deacons Joseph Friend and Daniel Velasco, who were ordained priests on Aug. 15, and introduced the other seminarians to see what life was like at the House of Formation.
If you missed it, you can watch it anytime on YouTube. Donations are accepted any time as well. It costs an estimated $36,000 a year to educate one seminarian for the priesthood. Go to Support Seminarian Education to learn more. Taste of Faith is sponsored by the Stewardship and Development Office. It began in 2010. For more information, contact Dianne Brady, director, at (501) 664-0340, ext. 391.
In addition to two new priests, five were ordained to the transitional diaconate in August. They are expected to be ordained to the priesthood in 2021. And six new seminarians were accepted this fall. They are: John Hoelzeman, James Freeman, Sam Ray, Andrew Capps, Jackson Nichols and Andrew Schaefer. To learn about them or any of our seminarians, read their vocation stories. For more information, contact the Vocations and Seminarians Office at (501) 664-0340.
---