Join Christ in desert through CRS Rice Bowl
Published: March 8, 2019
It's time once again to pick up your Catholic Relief Services' (CRS) Rice Bowl to help combat hunger around the world. This annual Lenten project encourages participants to perform a simple sacrifice by substituting a low-cost meatless meal for more expensive dining once a week, and put the money saved in the cardboard "rice bowl." Donations may also be made online.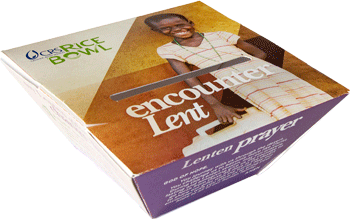 The money collected in the rice bowls, which is turned in at the end of Lent, is distributed to those in need. Seventy-five percent goes to support CRS' humanitarian and development programs outside the United States, and 25 percent remains in the local diocese from which the donation came.
In 2018, the Diocese of Little Rock raised $29,861.67 in rice bowls. Twenty-five percent of the money, or $7,465.42 remained in Arkansas to to assist low-income people through Catholic Charities of Arkansas.
While participants are dropping money in their rice bowls, they are also challenged to learn about the people they are sacrificing for. CRS provides prayer resources and reflections, a daily Lenten calendar, digital retreat, weekly stories of hope that introduce families from around the world and recipes from various countries for meatless meals that can be enjoyed on Fridays during Lent.
These materials are designed for families, parishes, educators and dioceses in English and Spanish. Download the CRS Rice Bowl app to get reflections on the Sunday readings, lives of the saints, stations of the cross, seven sorrows of Mary and more. For more information about CRS Rice Bowl, visit CRS Rice Bowl or contact Rebecca Cargile at (501) 664-0340, ext. 355.
This year's theme connects the time Jesus spent in the desert with the struggle impoverished and vulnerable people face each day. However, as CRS explains, that struggle ultimately leads to resurrection.
"Lent gives us the opportunity to encounter Christ in the desert. With him, we face the temptation to despair in the face of the world's deepest needs, to throw up our hands in defeat. In Jesus' struggle, we find ourselves struggling: we are afraid of not having enough, afraid of not doing enough, afraid of not being enough. But, just as Jesus emerged from the desert fortified to begin his ministry, so too do we emerge from the desert of Lent ready to encounter the needs of the world with the hope of the resurrection."
---