Halloween to celebrate holiness, not evil
Published: October 27, 2016
Today's observance of Halloween with scary costumes and trick-or-treating evolved over time from a combination of All Saints Day and All Souls Day. Halloween or "All Hallows Eve," is the vigil of All Hallows Day, now known as the Solemnity of All Saints (All Saints Day), which is celebrated on Nov. 1. The Commemoration of the Faithful Departed (All Souls Day) is celebrated on Nov. 2.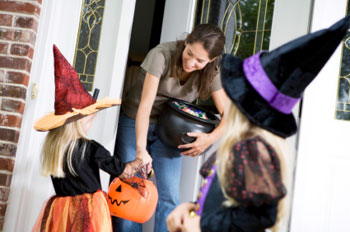 Not just the name itself, but many of the customs of Halloween have Christian roots. Franciscan Media offers the background behind the jack-o'-lantern, while Busted Halo explains that trick-or-treating was originally about praying for the dead. It also offers "Five Saints to Help You Celebrate Halloween" as and "Seven Ways to Keep the 'Hallow' in Halloween."
Word on Fire offers "It's Time for Catholics to Embrace Halloween," a Q&A discussing the Catholic origins of Halloween traditions while also offering suggestions about how to celebrate the day in a Catholic way. UCatholic and Catholic Culture offer more details about the history of Halloween and customs that evolved from it.
In Mexico, the celebration of the Dia de los Muertos (Day of the Dead) combines the religious aspects of All Saints and All Souls days with cultural traditions of honoring the dead. It is considered a national holiday and is celebrated from midnight Oct. 31 to Nov. 2 with the customs of "building private altars at the tomb of loved ones where families can bring the deceased person's favorite foods, drinks, flowers and mementos." A common symbol is the skull, which symbolizes death and rebirth. To learn more, visit Arkansas Catholic or National Geographic.
---