CSW celebrates schools' value to nation
Published: January 27, 2021
Catholic Schools Week will be observed nationwide Jan. 31 to Feb. 6. Catholic schools will celebrate the week with special Masses, open houses and other activities for students, families, parishioners and the community. This year these events will look different because of the safety protocols to prevent the spread of COVID-19. Some events will be virtual. Through these events, schools focus on the value Catholic education provides to young people and its contributions to the Church, communities and the nation. To learn how Catholic schools in Arkansas will celebrate, contact a school near you.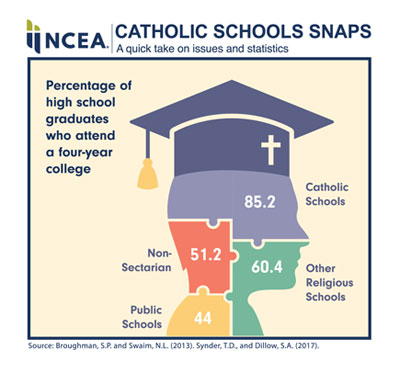 "As Catholic Schools Week is celebrated, let's support and applaud our Catholic schools for ensuring a faith-filled, safe environment," said Marguerite Olberts, associate superintendent of schools for the Diocese of Little Rock. "Even with the challenges that are being faced this year, our schools are providing excellent and innovative instruction for their students. Donating to a Catholic school on the Day of Giving, Feb. 2-3, is a wonderful way to show your support. Please keep our Catholic schools in your prayers."
The National Catholic Education Association's Many Gifts, One Nation: A Day of Giving to Catholic Schools campaign, in partnership with FACTS Management, will be held from 11 a.m. Tuesday, Feb. 2 to 11 a.m. Wednesday, Feb. 3. During this 24-hour window, individuals may donate online to the participating Catholic school or diocese of their choice with Visa, Mastercard and Discover. If you do not have a preference of schools, please give to the Catholic Schools Scholarship Appeal to help fund scholarships for students to attend a Catholic school in Arkansas.
Nearly 1.6 million students are currently educated in 6,183 Catholic schools nationwide. Ninety-nine percent of Catholic school students graduate from high school and 85.2 percent of Catholic school graduates attend a four-year college. This percentage has been consistent for more than 20 years. To learn more, visit the NCEA or see "A Dozen Reasons to Choose Catholic Schools." For statistics about Catholic schools in Arkansas, visit the Office of Catholic Schools, e-mail Marguerite Olberts or call her at (501) 664-0340, ext. 394.
---