$500,000 raised for seminarian education
Published: August 24, 2018
Four Taste of Faith dinners were held in Arkansas this summer that raised nearly $500,000 for seminarian education in the Diocese of Little Rock. Bishop Anthony B. Taylor, Msgr. Scott Friend, VG, and diocesan vocations director, other priests and many seminarians attended these events held in Hot Springs Village, Mountain Home, Bentonville and Little Rock. In addition to dinner, these events included musical performances, vocational talks, testimonials and door prizes.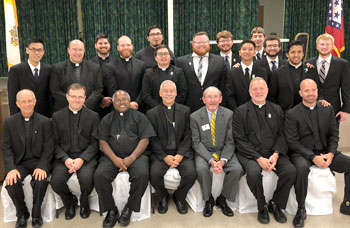 St. Peter the Fisherman Church in Mountain Home hosted its first ever Taste of Faith dinner bringing in $65,861.50 on June 29. Sacred Heart of Jesus Church in Hot Springs Village raised $60,500 on July 27 and $73,501 was raised in Bentonville on July 28. The largest dinner was held in Little Rock on Aug. 11 where $292,557 was raised for seminarian costs such as tuition, insurance, food and lodging.
The diocese currently has 22 seminarians, making the need for educational funds a top priority. It costs an estimated $41,000 a year to educate a seminarian for the priesthood. If you would like to support seminarian education, you may donate online or contact the Vocations and Seminarians Office at (501) 664-0340.
To learn more about our seminarians, visit our seminarian directory. Then click on a seminarian's photo to read or watch them tell their stories of how God has called them to discern a priestly vocation.