Universal Year of Faith
— October 2012 to November 2013 —
| | |
| --- | --- |
| | November Spotlight: Bishop Anthony B. Taylor |
| | |
| | In this video, Bishop Anthony B. Taylor, explains that for him, "faith is that movement in my heart whereby I become so closely united to Jesus and he so fully the center of my life, all that I hope and dream for, that I in some measure become Christ for others. In other words, faith is not so much about what I know as it is about who I know." This is the final Year of Faith testimonial from Catholics in Arkansas. Though the Year of Faith ends Nov. 24, 2013, our opportunity to grow in relationship with the Lord never ends. The bishop ends his video by reminding us of the prayer of St. Augustine: "Our hearts are restless until they rest in you!" To watch previous video spotlights, visit us on YouTube. |
"Recent decades have seen the advance of a spiritual 'desertification'. In the (Second Vatican) Council's time it was already possible from a few tragic pages of history to know what a life or a world without God looked like, but now we see it every day around us.

"This void has spread. But it is in starting from the experience of this desert, from this void, that we can again discover the joy of believing, its vital importance for us, men and women.
"In the desert we rediscover the value of what is essential for living; thus in today's world there are innumerable signs, often expressed implicitly or negatively, of the thirst for God, for the ultimate meaning of life.
"And in the desert people of faith are needed who, with their own lives, point out the way to the Promised Land and keep hope alive.
"Living faith opens the heart to the grace of God which frees us from pessimism. Today, more than ever, evangelizing means witnessing to the new life, transformed by God, and thus showing the path."
— Pope Benedict XVI, Homily to Inaugurate the Year of Faith, St. Peter's Square, Vatican City, Oct. 11, 2012
Three Main Goals
This special event, which is being celebrated worldwide, runs from Oct. 11, 2012, the 50th anniversary of the opening of the Second Vatican Council, to Nov. 24, 2013, the solemnity of Our Lord Jesus Christ the King. In the Diocese of Little Rock, Bishop Anthony B. Taylor summed up the purpose of the Year of Faith in a Sept. 9, 2012 letter to Arkansas pastors. He said we are to:
Open our hearts to get to know Jesus better.
Open our minds to understand and embrace Jesus' teachings more fully.
Engage our wills to address today's issues in the light of the Gospel of Jesus Christ.
How Can We Do This?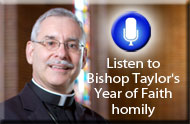 In his homily played at all Masses Oct. 6-7, 2012, Bishop Taylor offered several suggestions for how we can achieve all three goals. The following resources are among the suggestions he made in his homily. Listen or read his homily to find out how the links below can be used.
Updated Nov. 12, 2013